Subject: Chesapeake W meets Lee Hughes
----- Original Message -----
From: Anastasia
To: uncle-al@cogeco.ca
Sent: Wednesday, April 30, 2003 11:51 PM
Subject: Lee Hughes

Al;

I am a resident of Annapolis, Maryland and was walking downtown to a business appointment when I spotted a Wayfarer at City Dock. Lee Hughes had just pulled in for a brief stop before heading off to Truxton Park to anchor. He's sailing Frank Dye's Wanderer, as you know.
..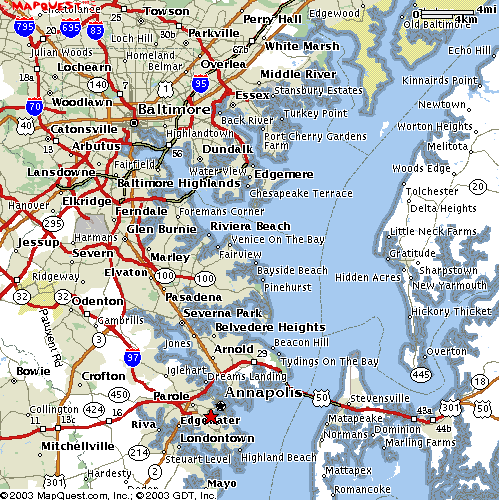 ..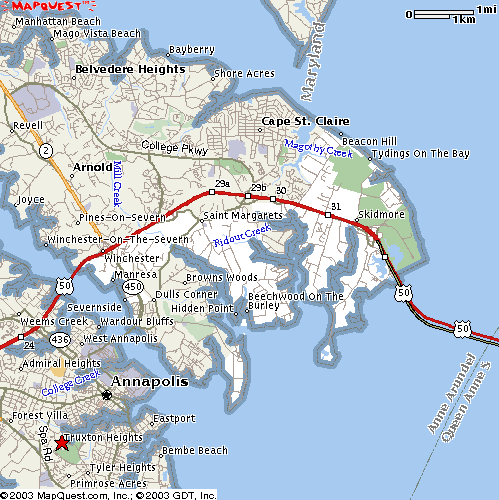 ..
I met up with Lee later at Truxton, which is near my home and where I put my Wayfarer in (#2639). We spent a couple of hours going over the boat in every detail. Your advice to him was taken to heart in so many matters. He kept pointing to this and that and saying "Al suggested it, and it really works well."

He is very happy, really enjoying his sail. He, like me, is a beginner sailor. Though he's much more courageous than me. Says he's been in the boat for 139 nights, not a night ashore!

The boat looks great, too. Lee keeps it neat and clean, shipshape. I offered to buy it from him upon his journey's end. I'm hoping to get more Wayfarers in Annapolis and having Wanderer here would make an impression, of sorts.

Just wanted to pass along to you the good news that Lee's doing well and looking forward to continuing his voyage. He expects to complete by July.

Best,

Anastasia

----- Original Message -----
From: Al Schonborn
To: Anastasia
Sent: Saturday, May 03, 2003 2:41 PM

Hi, Anastasia:

How nice to hear from you again! I recall that you were asking a couple of years ago, whether the W would be a suitable boat for you to sail on the Chesapeake Bay and that we responded with an enthusiastic "yes". I'm glad that you did indeed join the Wayfarer gang! Thanks for keeping me posted on your encounter with Lee. I'll post your note in the Weekly Whiffle where we also post weekly reports from Lee as to his progress... It makes me feel really good that Lee finds some of the things useful, that Marc and I suggested when we met up with Lee in February in Cocoa, Florida. Thanks for letting me know!!

Best wishes for great sailing in 2003 - and do keep in touch!!

Uncle Al (W3854)


----- Original Message -----
From: Anastasia
To: Al Schonborn
Sent: Saturday, May 03, 2003 11:34 PM

Dear Al;

Just took Lee and his anchorage buddy, Chuck, back to Truxton Park in Spa Creek on the Severn River of the Chesapeake. They were over for dinner. Lee left with a small pint of good whiskey and a big slice of apple pie, tucked in his rucksack. He departs Annapolis on Monday for the rest of the way up the Chesapeake Bay to the Delaware thru the canals. The Intracoastal waterway takes him up to NY. And then it's out to sea for the run to Maine. Quite an adventure. He'll need every drop of that Scotch!
..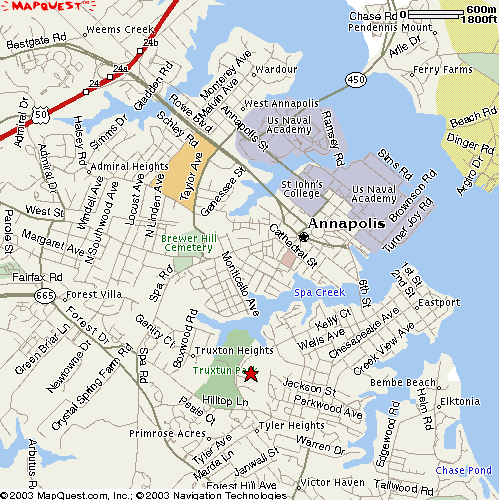 ..
We had a grand evening over dinner, telling tales of adventure and mishap, and the general laugh-at-oneself view of the world that Lee has. A sheer delight. I hope Lee comes back to Annapolis and stays some while to regale us all again with more adventure tales. We talked about the possibility that his love, Adrienne, would join him, though that doesn't seem possible for this trip. Maybe another time.

Your advice and suggestions were most beneficial to Lee. And he said so often, pointing out this or that, that had been recommended by you. He's really benefited from what you suggested, especially in the rigging.

And, in turn, I also learned a great deal from Lee. He instructed me quite well on how to sail. I am very much a beginner. He trusted me to skipper the boat. Giving instructions and waiting quietly until I gave the order to act... to demonstrate that if I don't do something, nothing happens, which may be worse than something happening! So, just do something, quickly, and see what happens. And, if it doesn't work out, do something else. But don't do nothing 'cause then nothing happens. And, at worst, the boat goes in irons and I've basically little control.

That day was a glorious afternoon and I learned far more than just about sailing. I tend to think things over and hesitate a bit. As Lee says, sometimes the opportunity to make a decision passes by. Better to make a mistake and learn something than to not do anything at all.

I've greatly enjoyed Lee's company and look forward to more Wayfarers on the Chesapeake Bay.

Best,

Anastasia


----- Original Message -----
From: Al Schonborn
To: Anastasia
Cc: Dick Harrington
Sent: Sunday, May 04, 2003 9:27 AM

Good morning, Anastasia:

Thanks for yet another lovely report. I have to say that Lee is the most unique person it has been my pleasure to meet, and I feel lucky to know him! I will add your letter to the Weekly Whiffle which I will post this morning. Best wishes for great sailing,

Uncle Al (W3854)

PS: I don't know if Dick Harrington has you on his cruising contacts list and have copied this to him in case he's not aware that you are out there with a W. Have you heard about the Rally that Dick organizes each summer? It attracts a great cross-section of cruisers and racers of every level of experience and is perfect for beginners, since all we do is relaxed day sails to a variety of fun destinations.

If you are interested meeting lots more W's and in picking up a few more sailing tips, this year's Rally is at Button Bay, Vermont on Lake Champlain, July 10 -13. You don't necessarily have to bring your boat, as we often go 3 or 4 to a boat, and those not bringing a boat always get a ride and - if they like - a chance to helm. Camping sites are becoming limited but we're allowed two tents per site so that someone would be sure to be able to squeeze you in!