Lee Hughes and Wanderer back in Fort Lauderdale
----- Original Message -----
From: Adrienne Faherty
To: Sue Hughes ; ... ; Frank Dye
Sent: Monday, January 20, 2003 1:27 PM
Subject: Hughes Nughes 6

Hughes Nughes 5 (I think, or maybe 6)

OK folks,

I made it back to Geoff Orr's place in Fort Lauderdale and I am tied up again to his dock at the bottom of his garden. For him it must be like having trolls living down there. Anyway, the sail back from Newfound Harbour (which is 30 miles north of Key West) was very good. I made good mileage sailing on the Atlantic side (inside the reef and miles inside the Gulf Stream).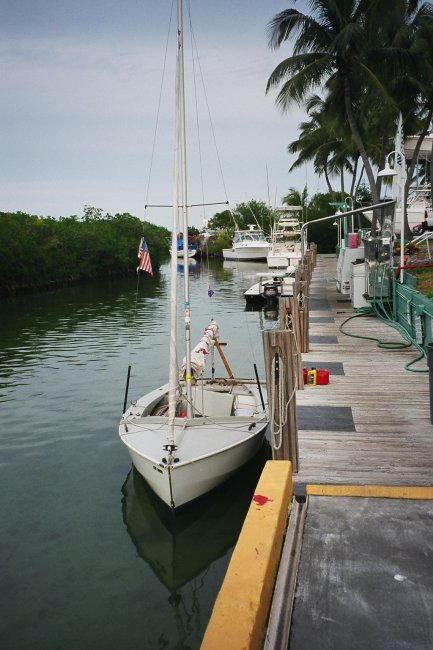 snugged up to a pier on one of the Florida keys

I stopped at Marathon, Windley Key, Rock Harbour (near Tavernier), and then sailed back inside the Keys into Biscayne Bay at the north end of Key Largo. Then back to Black Point (where Garry and Jesse helped me on Boxing Day after my rudder broke on Xmas Day). By then I thought I'd done pretty well and had started to get a handle on things. Over 300 miles done and only 15 miles back to Miami and then into the Intracoastal Waterway (ICW) and another 35 miles back to Fort Lauderdale.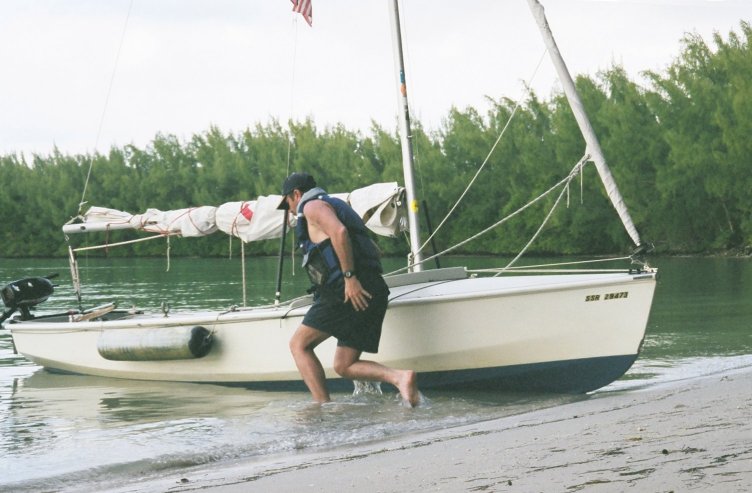 trying to beat the self timer on the camera near Miami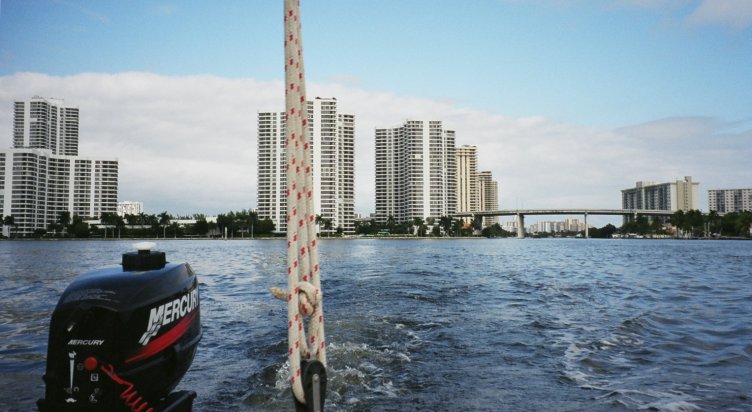 looking aft in Miami harbour

Sailing out of Black Point on Friday, it was dead calm but with 15-20 knot winds predicted for later in the day. I pootled along, having fun, listening to the radio, getting a tan and trying to rig a bungee cord self-steering gear. Soon it began to puff, so I stopped fiddling about and started sailing. I was making 6 kts or so, but after a while I decided to take in a reef as it was gusting strongly. I left it a little longer than I should have (because I was making good time and was only 4 miles from the Miami Harbor Bridge and shelter), when I finally decided to heave to and reef. I did that - rather neatly too, I thought - and was just bringing Wanderer around to sail on the opposite tack to the one I'd been on, when I guess I held the mainsail in too long and a gust got me and tipped the boat up. Suddenly there was green water pouring in over the side. I got a real surprise but managed to flip the mainsheet out of the cleats, fling myself over to the windward side and as the gust passed and the sail went out, she righted. There I was - in the middle of the bay - swamped! I guess the Biscayne Bay Sailing School bell hadn't rung for the end of class.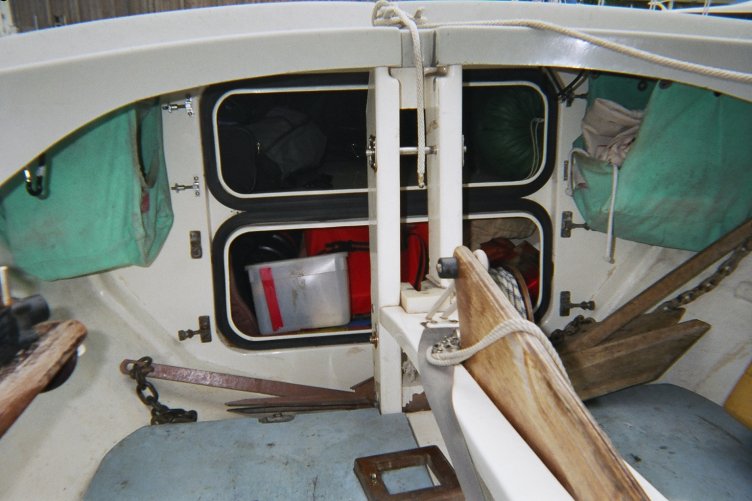 Forward storage compartments - exceedingly watertight even when swamped

It was blowing strong by now so I dropped the boom and mainsail into the bottom of the boat and grabbed a bucket. The water was a foot deep over the floorboards and I guess I had 200 gallons on board. I bailed away and then pumped until all the water was all back in the Bay where it belonged (I'm a tidy chap).
Then I stowed things and hoisted the sail, got back on the horse and rode it into Miami Harbour. I was double reefed by then, but near me, people were racing their little boats with full mainsail and jib so I wasn't in a storm or anything. It was quite a mystery to me how I managed to swamp the boat, but at least I was well prepared for it and didn't lose anything. Plenty of stuff got wet, but nothing that couldn't stand it. I dried out in the wind as I motor-jibbed across the Harbour and under all the bridges on the ICW.
All in all, it wasn't a too scary experience - just puzzling. And there I was, thinking I was quite a salty chap. That night, I anchored in the ICW in a little wooded bay and checked everything out. The lower watertight locker in the bow (which was half below the water when I swamped) was bone dry. So was everything else except the flare canister which had leaked. I motor-jibbed the next morning back up to Fort Lauderdale, into the New River and up to Geoff's.
That afternoon, Geoff made me welcome again and I moved my gear into his spare bedroom and washed and dried all my wetweather gear, air beds etc. This is my first sleep on land since 16 December - all the rest of the time I've been aboard Geoff's big boat or my little one. For the record, I've sailed 389 nautical miles which is about 430 statute miles. My best day's run was 39 miles.
I'll stay here for a few days longer while I sand and varnish all the woodwork, re-paint the floor, build a new rudder or else smooth the one we built on Boxing Day, check the centreboard and maybe put a layer of fibreglass on it, and do all my emailing and posting.
The weather here is - by Florida standards - very cold - wind chill warnings and all. By Wyoming or NZ standards, it's still 'shorts and a tee shirt' weather. Taking advantage of that yesterday, Geoff and I removed a steel davit (little crane for lifting small boats out of the water at his dock) and set about re-doing the foundations under it. We poured concrete and will re-set the davit later this week when the concrete dries. So, I'm learning new stuff all the time and it's nice to be able to do something in return for the hospitality. I'm glad I was able to help Phil De Clue with his house painting as well - especially after all the food he packed into me. Hoo boy - this guy can cook. On the day I left, he fried a whole pound of bacon, made me a breakfast of bacon and eggs and then, as I was leaving, he handed me the rest of the bacon in a bag to snack on. What a nice guy.
So now I'm homesick for Auckland (family), Christchurch (Adrienne), Wyoming (the Murdocks) and I'll miss Fort Lauderdale (Geoff Orr) as well, when I leave. This trip is getting tougher all the time. At least I'll take one home with me when I go - Wanderer.
Toodle oo
Lee