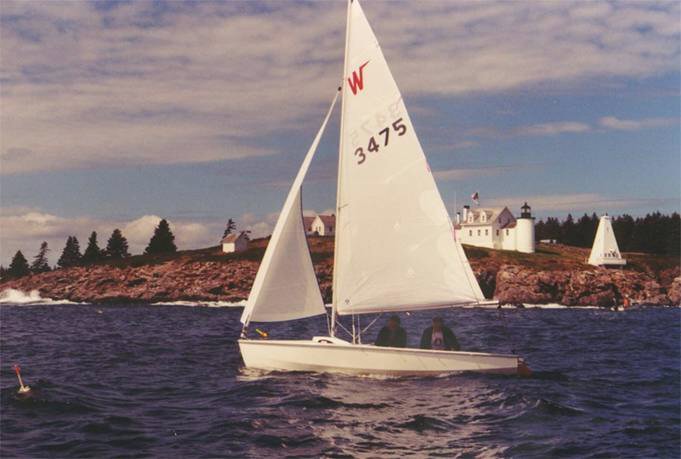 In September 2000 Wayfarer friends Abbey Gura from New York, Allan Parry from Manchester, England and I spent two weeks sailing the coast of Maine. The weather was outstanding and the wind plentiful. Allan's account of our cruise along with some of my photos were published in the Fall 2000 issue of the SKIMMER. We sailed 'down east' from Round Pond on Muscongus Bay to Southwest Harbor on Mount Desert Island, down-wind all the way. From there we went a bit further to the head of Somes Sound, Maine's majestic fjord, before returning. As the crow flies this is a total distance of about 160 nautical miles. But considering that there were many stops and side trips along the way we probably covered almost twice as much ground. Usually if it was blowing, or there was a long passage to be made, Abbey and Allan sailed together while I single handed.
September in Maine is a time when the air is clear and the winds are at their best. At some point nearly every day it was prudent to reef down. Sometimes the size of the jib also needed reduction. Abbey and I both have double reefing on the main and Abbey has a roller reefing jib. For this cruise I kept both my small jib as well as the genoa shackled to the bow fitting at all times, with the sail not in use tied on the foredeck. With this arrangement by luffing the main and fixing the tiller with a bungy I could easily switch jibs in two minutes flat.
The Fox Islands, Vinalhaven and North Haven, were one of our stopping points on our way back. These two large islands are located in the middle of Penobscot Bay and at this location the bay is over 17 nautical miles wide. Arriving by way of the picturesque Fox Islands Thorofare we had the unbelievable good fortune of sailing past the entire fleet of Penobscot Bay windjammers. I think there were eight or ten altogether. Sailing as a group they were on their last cruise of the year--the grand finale. It was well past mid-afternoon by the time we located the docks of the local sailing club and landed at the town of North Haven. That morning departing Stonehaven the sun had been shining, but now clouds began to roll in and it was turning chilly. The wind was gusting and a front was forecast to arrive the next day. It would be "breezy". In the vernacular of Maine weather forecasting that usually meant winds just under gale force. Following the front the fine weather we had been enjoying would begin to deteriorate.
Once on the other side of Penobscot Bay we still had a two-day sail in front of us. It was now Tuesday so that left only one contingency day. We needed to pull the boats out by Friday as Allan had to be at Boston's Logan Airport on Saturday to catch his flight home. I was nervous.

Determined to push on I told the others to go ahead and sail for the west shore. Meanwhile I would make a quick run to the nearby general store for a much needed rest room stop, snack, and cup of coffee. If I didn't catch up we were to meet at the High Island anchorage. High Island was nearly 12 nautical miles away. An hour later it was blowing stink. At the mouth of the Thorofare there were lots of whitecaps. I had the main pulled down to the second reef and was flying the small jib. About to plunge into a thick fog bank on the bay suddenly I saw a familiar boat emerge from the fog. Abbey and Allan had turned around. It was by shear luck that we avoided sailing right past one another. This brought me to my senses. I should not have pushed so hard and never should have sent them ahead into unfamiliar waters. We spent the night at Perry Creek on Vinalhaven, a very pretty meandering creek with high rocky banks, thick spruces, and good protection.
Getting an early start the next morning the wind wasn't as bad as I had expected. Nevertheless while temporarily moored along side the floating dock of a small yacht club I painstakingly plotted the entire course for the day (we would try for Tenants Harbor), then inputted the waypoints into my GPS. I also entered in a small pocket-size note pad each waypoint, course heading, and the distance of the leg. This being quite complicated took some time, which made the other two antsy enough to again leave without me. As it turned out conditions on the bay were not as bad as the day before and there was no fog. Upon catching up with the others on the opposite side and I heard some complaints about holding things up, but I would still do the same again. They would have been wise to have followed my lead.
Now the wind picked up and in short order we were back into reducing sail. A 10 nautical mile beat down Mussel Ridge, a narrow channel with treacherous shoals on both sides, lie ahead before reaching Tenants Harbor. The wind was not constant though, which meant frequent sail changes--reefing, followed by shaking out the reef, and once or twice even jib changes. By the time we reached Whitehead Light at the end of Mussel Ridge channel the tide was running full bore against the wind. This made for a very nasty chop. Struggling in five-foot waves I nearly capsized when I inadvertently lost my grip on the tiller and Blue Mist abruptly came about with the jib fully backed. Arriving at Tenants Harbor we were totally exhausted but proud of our day's accomplishment. We had sailed over 20 nautical miles in difficult conditions. A great seafood dinner at the Cod End restaurant on the end of the pier was thoroughly enjoyed by everyone.

Critique
What lessons can we draw from the above experience?
Stick together. I was very wrong to send the others on ahead. In fact I probably had been pushing far to hard throughout the cruise. This was a difficult trip for Abbey. He had not tackled a cruise of this magnitude before and had done little sailing that summer prior to this occasion. As a result I developed a bad habit of ranging too far in front of the others. I needed to prod them along, I thought. When they wanted to go on ahead of me I thought, "OK, that's good". Wrong! It was faulty and selfish thinking on my part. We narrowly missed suffering a serious mix-up. My British counterparts in the UK are very adamant about staying close together. The leaders are not allowed to get too far out front and the stragglers are not permitted to fall behind.
Reefing. Rarely have I conducted a cruise where I haven't had to reef. Yet on several occasions recently I've been with skippers who, though they had taken the trouble to put reefing cringles in the main, were ill prepared to take in a reef. These individuals had not bothered to install the clew, or tack, reefing lines needed to perform a jiffy reef. In other words they assumed that if they needed to reef they would do it before hand, or could drop the sail in the cockpit and begin tying-in the reefing ties. But I don't think they ever actually tried doing it. Folks, test yourself and try it. It is not as easy as you think and it takes quite a bit of time. Sometimes these are precious minutes when bad things can happen, such as when being hit by a sudden squall. With my jiffy slab reefing I can take in, or shake out, a reef in less than two or three minutes. Also, the 1/8" shockcord with plastic hooks reeved through the cringles is much neater and faster than ties for bundling the loose sail. (See photos.)
Small boat navigation. My favorite book is David Seidman's, The Complete Sailor, International Marine, Camden, Maine. It is outstanding reading for beginners on the subject of how to cruise in a small boat.
Let's start with philosophy. Don't count on being able to do any course plotting once underway, especially if you're single handed. Just going through the gyrations of getting a fix off the GPS and plotting a position is usually a hassle. Do the navigation work before leaving the dock, weighing anchor, or whatever. The GPS is there to be used in an emergency. People who keep playing with the GPS, checking boat speed, etc., drive me up a wall. Usually with these folks the boat's wake looks like a snake and the sails are luffing. Learn to make that wonderful computer God gave you in your noggin do the work. It requires no batteries and has no buttons to manipulate. Use waypoints that are real, not imaginary. If you aren't sure of where you are and are sailing by GPS you want to see something, such as a buoy, that confirms that you didn't mistakenly input bad data. My small spiral pocket note book is my best friend. I can pull it out of my pocket and tell instantly the heading I'm supposed to be sailing, what the waypoint is that I'm looking for, and how long it should take to get there. If the waves are five feet high and the chart case is floating in the bilge I'm still whole. Finally, package your charts so that they are user friendly and readable at a glance. A glance is sometimes all that you'll get.
Tips. Occasionally I see someone with a chart stored in a tube. This immediately tells me that the closest this person has come to navigating is the school desk at the Power Squadron or the U.S. Coast Guard Auxiliary navigation course. An excellent course, but not the final say for sailing a small open boat. In a Wayfarer you'll be working from your lap, the boat will be bouncing, and water will be all over the chart. On the Great Lakes I've had good luck with some of those independent compact chart books (called cruising guides). I tear out the pages that I'm interested in and cover them with clear contact paper. Then I staple them together to make a small packet. The paper quality is not as good as NOAA charts but the contact paper makes them (semi) waterproof. Of course I still store them in a chart case. My Maine charts have a billion creases in them. That's because I've folded and refolded these charts many times to get the maximum exposure of the portion of the chart I'm interested in. I will have it so that I can flip the chart case over and continue on without having to take it out of its waterproof protector. Usually I work with two chart cases already prepared. Outdoor outfitters that cater to kayaking have good chart cases which include 'D' rings for tying a line to keep the chart in the boat. Throw away those dividers, parallel rules and fancy plotters that you bought for that navigation course. I use a very simple plotter that has no moving parts and is fool proof--the "Denmark Course Plotter" by West Marine. The dividers just poke holes in your waterproof case. Use a sheet of paper from your pocket note book with pencil marks for marking off distances. That's all you'll need except for a mechanical pencil and some stubby wooden pencils that won't get broken when you accidentally step on the case. Finally, practice estimating course headings by simply eyeballing the chart and using the side of your hand as a guide. You'll be surprised at how close you can come. Also practice estimating bearings by glancing at navigational objects from over the top of your compass card. I have found my flat-face style compass mounted on center thwart works quite well for this purpose. Sailing single handed there's no way you will ever get to use a hand bearing compass.
Photos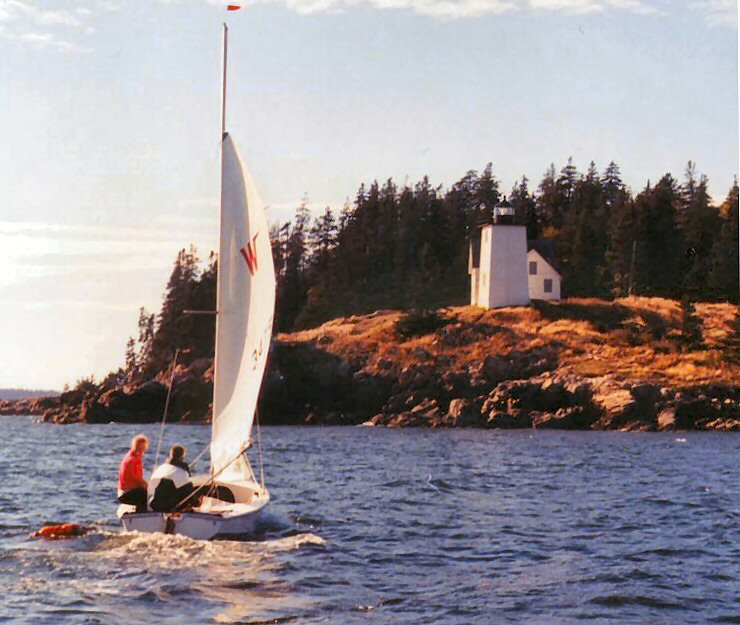 Abbey and Allan off Hockamock Head at Burnt Coat Harbor on Swan's Island.
Things look calm here; however, the crossing from Isle Au Haut had been rough but great fun.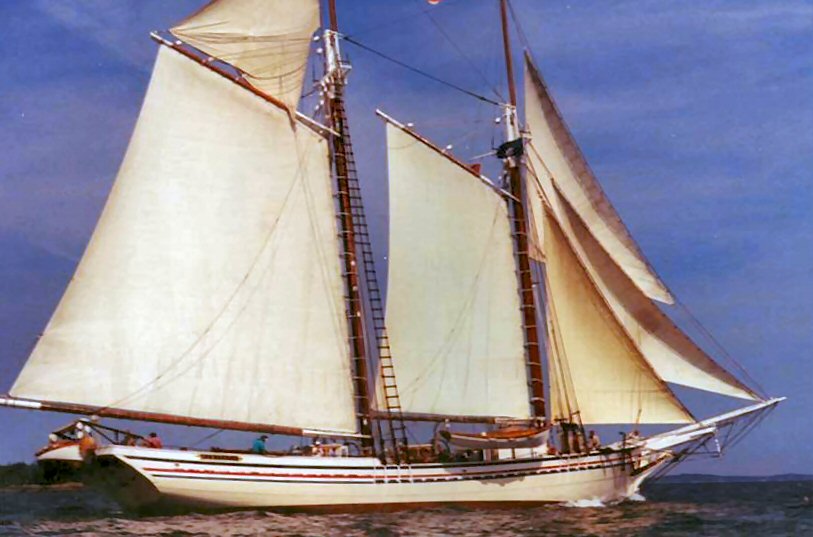 One of the Penobscot Bay windjammers.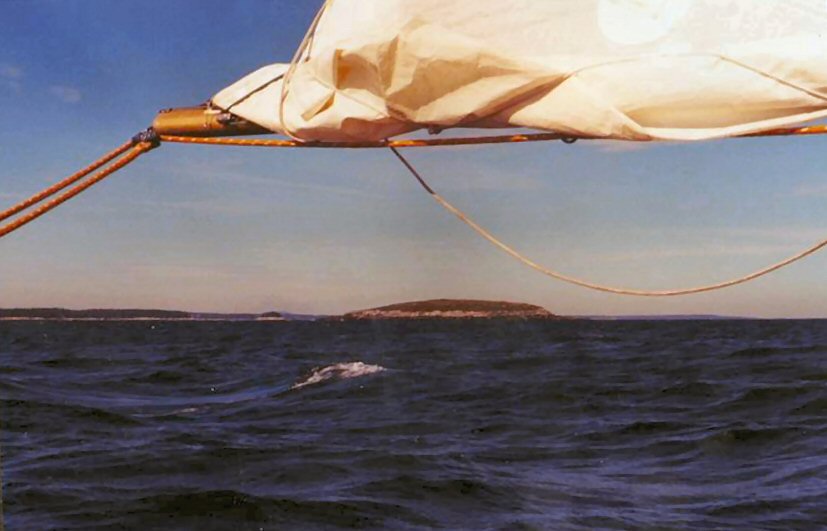 A close up of Blue Mist's jiffy reefing. Note the lines at the clew and the 1/8" shock cord reeved through the reefing cringles. Small plastic hooks tied into the shock cord on one side are used to catch a loop pulled under from the opposite side. (The loop in the 2nd reef clew line seen hanging down is not good. I've since added more fairleads to the boom.)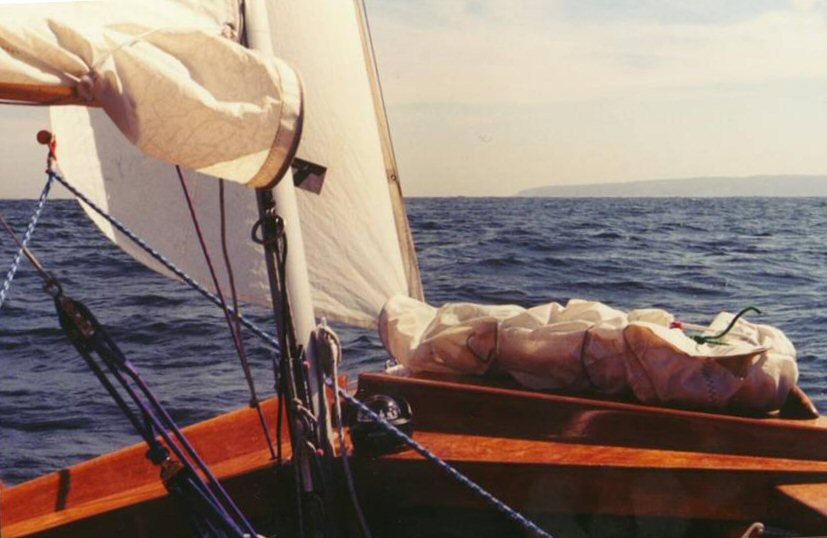 A view looking forward. I use a reefing hook located near the gooseneck to catch the tack reefing cringle. This way no line to the tack cringle is required. Here you see that the small jib is up and the genoa is tied down to the deck handle with quick release shock cord. Also to facilitate quickly changing the jib a "ball & loop" are sewn and moused into the jib sheet to catch the jib's clew.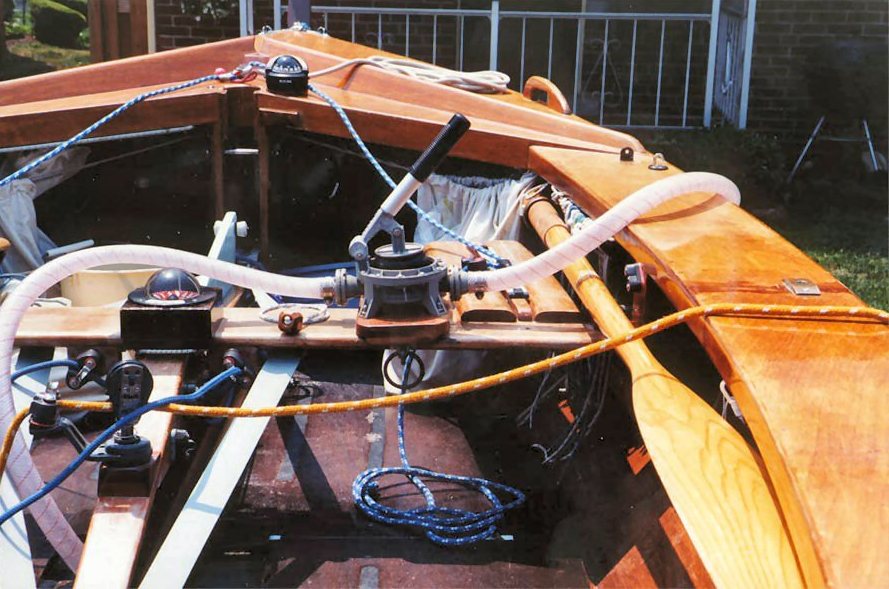 Blue Mist in the driveway. Note the two compasses (the center one is attached by shock cord and easily removed); the bilge pump which can be operated while sailing single handed (again attached by shock cord); and oar stowage (this location only works on a wooden Wayfarer).