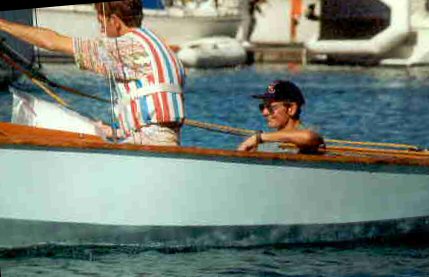 David Sleightholm & Dick Harrington

This is the story of five Wayfarer crews who this past July joined together on a 7-day odyssey through the beautiful and picturesque island passages of Canada's North Channel. Cruise organizers were the US Wayfarer Association Cruising Captain (the author), and Tim France, the Canadian Wayfarer Association Cruising Secretary, who also served as the cruise leader.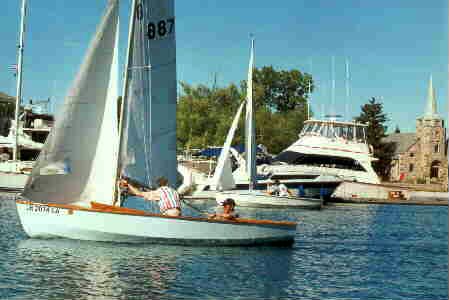 I first ran into Tim France in July of 1993 on Georgian Bay. He, Alan Asselstine and Noel Price were on their way back to Bayfield Harbor after having paid a visit to the Bustard Islands. I was headed west, on my way to the French River, and still pretty green at dinghy cruising. So, it was a bit of a surprise to me to spy a sail, with that familiar Wayfarer "W" at its peak, headed my way in what at that time seemed like a remote part of the world. That encounter marked the start of a lasting friendship between Tim and myself.
In the several years following this initial encounter both of us continued to do our own thing in the way of cruising, even though we frequently talked about organizing a joint US/Canadian Wayfarer cruise. Tim made several more trips to Georgian Bay and the North Channel, while I explored the Chesapeake, Lake Superior and the coast of Maine. It wasn't until just this past year (1997) that things fell into place where Tim and I finally managed to organize that joint US/Canadian cruise.
The cruise, which covered a distance of over 100 miles, started and ended at Killarney. We went as far west as the Benjamin Islands and also paid a visit to beautiful, fjord-like Baie Fine. In addition, as a result of seeing our advertisement in the UK Wayfarer News magazine, Englishman David Sleightholm flew over from Surrey, England to join us.
The following is my account of our cruise.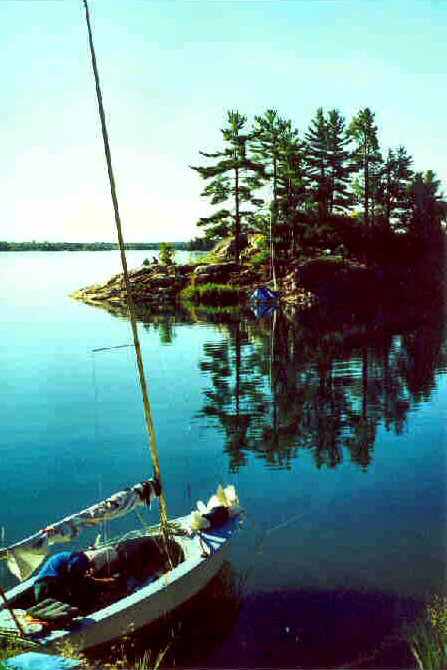 Tim's Secret Cove

Day #1 - Tuesday, August 5, 1997. By mid-afternoon on a delightful sunny day, all five Wayfarers had arrived at the departure point--the launching ramp next to Jerry's Perch Fish & Chips in Killarney. We were all dying for one of those famous and delectable fish dinners, but the skippers won the initial battle, so first we got the boats in the water and loaded. As usual this took considerably longer than the skippers promised, as the piles of cruising gear and food for a week formed a small, but formidable, mountain on the pier. Then finally, with mutiny close at hand, everyone rushed for Jerry's and a most welcome fish dinner of delicious White Fish and hybrid Lake Salmon. (It has been rumored that David Sleightholm declared Jerry's fish & chips better than any in England!)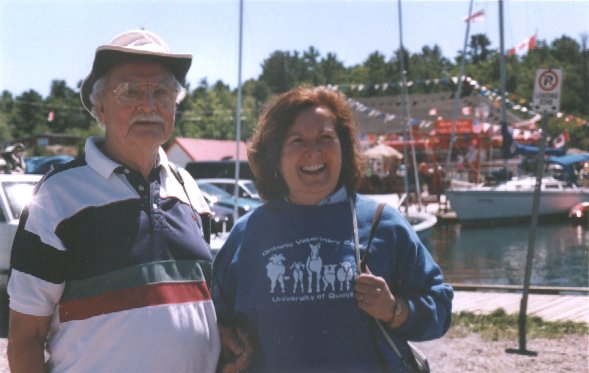 Joining us for this special occasion were "mister cruise" himself, Canada's renowned Wayfarer cruiser, Don Davis, and his wife, Trudy. They gave us a glorious send off (amid much fanfare and picture taking) as well as some last minute words of advice (from their many years of cruising experience), e.g. "Are you sure you have enough beer and wine?"
At last, with just a light breeze and an afternoon sun which was beginning to wane, one, then another of the Wayfarers, in single-file fashion, headed west--down the channel to Killarney Bay. It was only a half-hour sail to a small cove on the north side of Killarney Bay, where we would spend the night.
Tim France indeed had taken us to a gorgeous little cove, a small inlet of clear blue water surrounded by well rounded, red granite rock, tall trees and low hills with bluff overlooks--a perfect spot for our small flotilla of dinghies. Here we pulled the Wayfarers stern to, right up to the shore, with a bow anchor holding the boat out. (There was even a great spot for the Burtons to pitch their tent.) It occurred to me that without Tim's knowledge we would never have found such a cozy place. In fact, even with the tops of a couple of masts visible from behind a small island, I still had difficulty finding the entrance to this most secretive cove.
Declaring that there was still unfinished business, Tim France led an expedition of three up a particularly high hill for an especially spectacular view of nearby Covered Portage Cove, where a number of larger cruising boats were anchored. The rest of us, being a bit lazy, decided to relax, enjoy the scenery, and go for a swim or set up camp. However, when Tim returned alone a couple hours later (the others having decided earlier to turn back on their own) we had our first crisis. It was short lived, however, as the missing two soon showed up, tired and hungry, after taking the longer, more torturous route back by following the rugged, and sometimes marshy shoreline.
The sky that night was very clear, affording a great view of the Milky Way, and several shooting stars were spotted by a couple Wayfarer sailors still able to stay awake. But then, as the temperature of the night air began to quickly drop, the less hardy of us were forced to burrow more deeply into our sleeping bags and sleep soon followed. As I fell off to my own world of dreams, my thoughts drifted across the quiet waters of the North Channel to join two lovely Loons, who with their wild, bittersweet love songs, serenaded us into the wee hours of the following morning.
We were:


The Race to Little Current
Day #2 - Wednesday, August 6, 1997. Warm sunshine and a refreshing morning swim! Who would be in a hurry to leave such a lovely spot? It was well after 10 AM by the time we departed. Our excuse? We were waiting for the morning breeze to pick-up! (The forecast was for Southwest winds at 10-15.)
Al Schonborn and Doug Gilchrist get the jump on the rest of us and catch a piece of the last bit of land breeze before it dies. With spinnaker flying they are on the distant horizon as we drift far behind in weak whispers. It is a race to see who can keep from being the last boat! In desperation (really now!), David and I take a shortcut across a rocky shoal. We are going slow, with David on the helm and me standing on the foredeck--"rocks visible, about 10 feet deep." Then, "Hard right, David, rocks awash, dead ahead!" Once again a "hard right", after which it's clear sailing. David by then is wondering what kind of a skipper he has signed on with. However, none of this has escaped the keen eye of Tim, and be assured, we will take some kidding about it later on.
A little longer, then the promised wind shift finally arrives and builds quickly to a great sailing breeze. The water is still flat and Blue Mist leaps forward in spite of being heavily laden. Al and Doug are already history, but a race is on between Tim and Alan, on Wind Breaker, and David and me, on Blue Mist. We find the two boats and crews to be well matched, as we sail in close company for the next several hours--our destination being the town of Little Current, a distance of 23 statute miles. (Our original destination, Boat Cove, 7 miles further on Great La Cloche Island, having fallen into jeopardy because of our slow start.)
It was time to pay close attention to our navigation as David and I studied the chart, picking out landmarks, navigational buoys and our turning points between the numerous unfamiliar islands. Tim and Alan were close at hand and knew the way well, but we refused to fall into the trap of "follow the leader".
The great Southwest breeze that had given us a fast broad reach for several hours finally began to fade, but our messenger of good news, the light on the northern tip of Strawberry Island, was in clear view and only 3 miles off our bow. Once past the light and through the narrows between Strawberry Island and a shoal named Garden Island Bank, Little Current was just a short ways beyond. But fate would have her way and within less than half a mile of the light we were dead in the water. David, who is much experienced with the quirks of ocean currents, soon discerned the fact that we were now being influenced by a "foul current" (we were being pushed back). (Maybe that is why it is called Little Current?) It was time to get out the oars.
Once again the calm was a wind shift in disguise, a strong breeze with a 180º shift at that. All of a sudden we were close- hauled and catching some spray, so out came the wet weather gear. For once I was favored by a wind shift and we got a good jump ahead of Tim and Alan, being the first to make the swing bridge at Little Current. But, since we had just missed the bridge opening, we were forced to wait there until the next opening at 6 PM, which was not that bad as it allowed all four Wayfarers to regroup. With a healthy head wind blowing right down the channel, all prior thoughts of trying to shoot the bridge (shades of the "Brits") was out of the question. (I'm sure David was disappointed.)
The public pier at Little Current was a very welcome sight and no one wasted any time getting ashore for a well earned break. As always, a cruising Wayfarer generates a certain degree of interest upon entering a foreign port. With four Wayfarers together, we attracted the attention of several of our fellow big boat cruisers tied up with us on the pier, and briefly enjoyed the attention of visitors with questions about our travels. Little Current is indeed little, but pretty, picturesque and has a kind of frontier air about it. It is also very busy with visiting cruising boats, since essentially all traffic to and from the North Channel has to pass through it.
Some people may have been ready to just stay the night at Little Current. But better still, we were fortunate enough to find a comfortable and well protected bay just one mile west of Little Current. There we spent our second night, tied up to shore much as before. Everyone had had enough sailing for one day and it was getting late. Having not seen Doug and Al since morning, it had generally been assumed that our fifth boat had gone on ahead to Boat Cove. (No doubt we would meet up the following day.) Thus, with dusk and darkness already descending, it was with great surprise and lots of questions, that we welcomed the late and unexpected arrival of our two wanderers. Their tale was quite long, but suffice it to say they missed one of those critical early turns amongst the islands (very easy to do), and managed to sail a great distance out of the way.
I recall, as I turned into my bunk that night, how the night wind made low toned, restless sounds in the nearby trees, while the lights of Little Current twinkled softly and reassuringly in the darkness from across the channel. What new challenges would the next day bring?

After Swapping Crews and Reefing, Fluky Winds Lead Us to Mosquito Haven

Day #3 - Thursday, August 7, 1997. What a terrific cruise leader Tim France was. David Sleightholm was also proving, in many ways, to be a great asset to our cruise. Morning arrived with some clouds and sun, promising another pleasant day. Tim was urging us to get an earlier start than the day before. But, although the wind that had blown throughout the night actually had diminished in strength, from our vantage point in the bay it appeared to be just as strong as ever. Tim wanted to lighten things a little for our two less experienced boats, neither of which had reefing points in their mains, although both had roller furling jibs. That is not to say that either boat was having undue problems. Glenn Fox had an excellent Suzuki outboard motor, which he had used to good advantage on the previous day. (We nicknamed him Mister Suzuki.) Also, the Burtons were doing admirably well. But Tim felt another day of stiff sailing would be tough on both Judy and Bill. He had some crew swapping suggestions, which would even things up a bit between boats, as well as give everyone a nice change by sailing with someone new. Then David provided additional welcomed help by showing us all a new trick--demonstrating how to effectively jury rig a roller reef into a mainsail.
With David in Glenn's boat, Judy with Tim, and Alan with Bill, we started out for the Benjamin Islands, a distance of 17 statute miles. Glenn and Bill's boats were reefed for lots of wind. The course was a dead beat into the wind. However, the reefs, no longer really needed, soon came out and in a little more than an hour or two we were in light air and making slow progress. The Benjamins were a long ways off and the frustration of struggling to get somewhere with little wind went on for the next several hours.
Fortunately, that morning prior to our departure, Tim in his usual thorough manner, had indicated a place on the chart where there was a beach, on the east side of Clapperton Island, where we could stop for lunch. At the same time we had selected Logan Bay, two miles further north on Clapperton, as an alternate camping spot for the night, should we be unable to make it to the Benjamins. It was well into the afternoon before the wind finally returned. Being single-handed and far in the lead at this point, I decided to take us directly to Logan Bay and get set up for the evening. It was already close to 5 PM by the time I got there.
Unlike some of our earlier camping spots, Clapperton Island is rather low, flat and cloaked with thick trees and dense brush, right to the waters edge. However, the shallow, rocky bay is well protected. Finding a partially cleared grassy knoll (albeit, heavily laced with poison ivy) which was probably the camping site of some fishermen, we pulled our boats ashore and pitched the tent. But, alas, there was one big drawback none of us had anticipated--hordes of mosquitoes!
After the late night before, everyone was content to get an early rest, take a swim, just relax and have a cocktail before having to prepare dinner. Amazingly, the Burtons had lawn chairs stashed away within the CL-16, which they now set up on the bank. Wow, what luxury! (The mosquitoes waited patiently and quietly in the brush for the dragonflies to retire, as we innocently had fun.) David Sleightholm, who is about 6'-3'', lean and muscular, works as a mounted policeman in London and was perpetually hungry. The Burtons just happened to cook one too many steaks, would David like to keep it from going to waste? "Why yes! Thank you very much! Umm, very good!" (The mosquitoes continued to watch and wait.)
Finally it happened, dusk arrived, the dragomflies went to bed, and the mosquitoes attacked. They came in waves, and attacked again and again. The victims bled, red blood, they jumped up and down, on one foot then the other, they yelled, they cursed and everyone ran for their boat tents. But inside the tents the mosquitoes went too, and an uncomfortable night was had by all--except for the Burtons, that is, whom slept quite serenely within the bug tight enclosure of their ground tent.


One of the North Channel Crown Jewels--the Benjamin Islands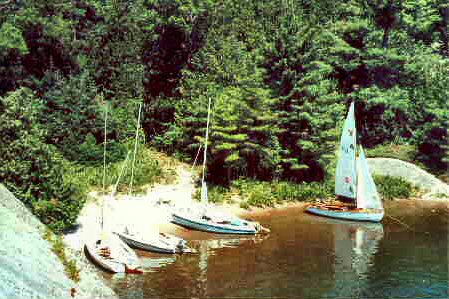 Day #4 - Friday, August 8, 1997. We licked our wounds from the night before, yet remained in great spirits. There was a clear blue sky and a great breeze blowing out of the west. We were seasoned cruisers now, and for most of us it was just a short sail north to our next stop, a small cove on South Benjamin Island. Doug and Al, however, having made other commitments, say good-bye and head off on their own for McGregor Bay. (We will see them once again, just briefly on Monday, at Baie Fine.)
If the North Channel were the South Pacific, then the Benjamin Islands would be coral ringed islands, with white sandy beaches and coconut palms bending in the breeze. But in real life, this small group of islands are very special in their own way. Made up of high, "pink granite" rock, worn through the ages round and smooth, they are fringed with dark green pines and abound with seemingly endless rocky coves, occasionally with a sandy beach, that defy any passing sailor not to stop and explore.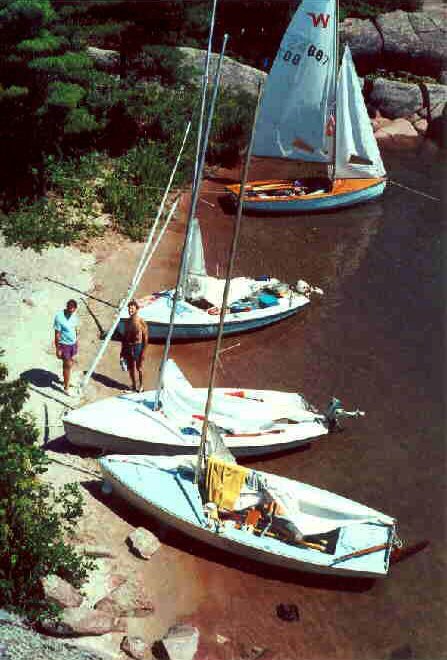 We landed at a gorgeous, secluded cove on South Benjamin Island, surrounded on two sides by towering pink granite walls, that was just large enough for the four Wayfarers. At the head of our cove was a beach of coarse white sand. Tall grass and large shady trees covered a gentle slope behind the beach. It was a perfect place for the boats, as well as a great camp site. Originally intended only as an intermediate stopping point, it was soon decided we would just stay there and spend the day exploring this beautiful, picturesque island. Could paradise possibly marvel this?
Everyone got to do some of the things they had been waiting for. Glenn and David did some snorkeling, I got to try some fishing (unsuccessfully), Tim and Alan explored the area further from Wind Breaker, Judy and Bill got in some relaxing reading. Most importantly, everyone did a lot of rock climbing to see the marvelous views, taking many pictures.
A Record Sail to Baie Fine (Bay Finn)
Day # 5 - Saturday, August 9, 1997. The consequence of Friday's decision to stay at South Benjamin Island was that we now had to forego any further exploration of the north shore. We were running out of time, and with the weather forecast for Sunday being unfavorable, we needed to make some distance back toward Killarney. The weather radio was predicting Southwest winds at 30 km/hr. (~18 knots). This was a great wind and we (the leaders) felt we should take maximum advantage of it. We would head for Baie Fine.
We got off early, with the Burtons and Glenn Fox leaving first. Everyone was back on their usual boats. Not wanting to sail over the same ground, our return route was to the north of the Amendroz, Bedford and East Rous Islands, then south to Little Current once more. (Coming up we had sailed the southern passage.) Sailing on a broad reach most of the way, we made fantastic time to Little Current, getting there early enough for an enjoyable lunch of fish & chips.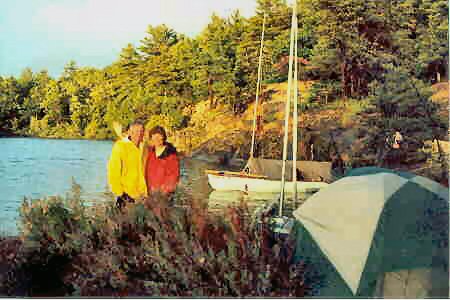 Sitting in the restaurant, we watched a large, two-masted, cat-rigged schooner, heeling to her scuppers, as she sailed close hauled up the channel. The wind was continuing to build and was definitely pushing the predicted 18 knots. Not surprisingly, the wind gusts were indeed challenging as we left Little Current, headed east through the bridge. However, once out of the narrow channel things settled down to an exhilarating, planing broad reach, with lots of spray and only an occasional overpowering puff. My honest opinion is that we were averaging better than 6 knots for several hours.
Once more the unspeakable was happening--it was a race. (As Trudy Davis says, cruisers are just racers in disguise!) But this time it was Tim and David vs. Alan and me. (Alan and David had switched boats at Little Current.) Tim and David had gained a small lead on us and try as we would, we couldn't catch them. An hour went by and we were still desperately hanging on, then finally, turning north into Frazer Bay and now on a run, we gained the advantage. We had a whisker pole for the jib and they didn't.

It couldn't have been much past 5 PM. We had already shot the gap between Frazer and McGregor Points, the entrance, and were making our way up majestic Baie Fine, a very long, narrow, fjord-like bay, with high, mountainous hills on both sides. Again, the cameras were out taking photos, this time of beautiful snowy white quartz bluffs to our left and the bold, pink granite, outcropping on the even higher hills to our right. In this one day we had sailed a distance of 34 statute miles.

Keeping Busy on a Rainy Day
Day #6 - Sunday, August 10, 1997. With the closing of the "lodge" and all its facilities, for many a long time favorite stopping place at Baie Fine, the cove behind Mary Anne Island (where we had planned to go) was jam packed with cruising boats of every description. However, after some recognizance Tim was able to find a nook in the steep rocky shore, just a little ways past Mary Anne Island, that was suitable for the Wayfarers, was protected and was still close enough to pick up the trail to Frazer Hill (which actually is more of mountain than a hill). We were glad to be snugly tucked in shore, when we awoke the next morning to heavy clouds and what was surely a strong wind on the "outside" and the imminent threat of rain. The decision to stay put was a "no brainer".
With the rain still holding off, after breakfast all but Judy (she knew something we didn't), headed up the trail to the summit of gorgeous Frazer Hill--our backpacks containing a light lunch and rain gear. This trail is a very lovely, easy climb that leads over a variety of interesting terrain. It includes quiet, softly padded paths through mature forest, as well as long, narrow, rocky passages that require some negotiating and where each rock is a stair step leading up. Nearing the top it traverses over flatter, more rounded craggy faces of granite out cropping, with rock cairns along the way marking the trail. Every so often, an overlook is encountered, which with each higher elevation provides increasingly spectacular views (to the north) of beautiful Baie Fine and the white quartz rock hills of McGregor Point and Blue Ridge (part of the South La Clochche Range); and beyond that (even on a gloomy, hazy day) the shimmering, island choked waters of expansive McGregor Bay.
Luckily we took some photos on the way up, because just when we reached the top the clouds descended and it poured. The most spectacular views of all, to the north as well as the south, were denied to us. On the other hand, I got some (really great?) shots of a bunch of guys standing on the rocky face of a mountain in rain and fog. In spite of this bit of bad luck, we still couldn't have picked a better place to be stuck on a rainy day.
Some sailors tend to get real antsy when holed up. It was late in the afternoon, and Alan, David and Tim were bored! I was happy fishing in the rain (even though I never caught anything big enough to keep). Glenn Fox and the Burtons were in their respective tents keeping dry, each in the company of a good book. (None of us yet believe that the old sieve of a tent Glenn borrowed from Tim kept the rain out. But Glenn swears he was dry!)
The next thing I saw was the three of them headed east, up toward the head of Baie Fine, in Wind Breaker. Then, just about the time they reached the middle of the bay, the clouds opened up for the umpteenth time and it poured real hard. "Well, nothing to be concerned about there," I said to myself, "they won't stay out in that very long!" Wrong again!
At 7 PM the light was beginning to fade, even though some brightening of the Western sky indicated that the rain was about over. The wind, which had just about died during the heaviest rains, was back but didn't seem to be as strong. "Where are those guys", I groused to myself. The large pot of soup I made up had been done for a while. Again, I looked out of the tent opening to see if there was a sail rounding the point. "Nothing!" I called over to the Burtons, who had a better vantage point for seeing down the bay, "See any sign of them?" "No sign", was their reply. I still didn't believe it, Tim wouldn't have sailed all the way to the "Pool" (at the end of Baie Fine), a distance of nearly 10 miles. But, that is just what they did and have the tale to tell about it.
Glenn motored out and shortly found the three not far away. Soon thereafter they made it back, very cold and exhausted from the difficult beat all the way back down the bay. Meanwhile, the Burtons and I had prepared lots of hot food ready to eat the minute the three set foot on shore, for which they were very grateful. "Oh! It was all worth it!" David exclaimed, "The scenery was splendid and the pool was spectacular!" Tim and Alan agreed, although I thought I detected a little less enthusiasm, and that was after a couple of belts of Scotch.

Sadly, the End Draws Near
Day # 7 - Monday, August 11, 1997. "Would you like oatmeal with maple sugar, or Cream of Wheat with apple and cinnamon?" The question was meant for David Sleightholm, but I could have just as well addressed myself. After a week of the same old thing, breakfast no longer sounded appetizing to me and I was sure it didn't to David either. I made a silent vow next time to do something different. On the other hand, Tim's generous helping of freeze dried scrambled eggs this morning weren't winning any rave reviews either. (Nobody was sure what Glenn ate because he would always get an early start and be done by the time we were just beginning.) But why was it that Bill and Judy always seemed to have great meals? I would need to find out their secret. My food compartment was now looking pretty barren and I imagine everyone else's was too.
This was the final day for Bill and Judy Burton. The CL-16 had developed a leak, somewhere between the inner and outer hulls, and was taking in a lot of water in this space. Since we would be sailing past Killarney, Bill had decided it was time for them to head home. Glenn Fox would leave also, going with the Burtons to be on hand in case they had trouble. He would use the extra day to pay a visit to his father. That left just the last two boats to finish the cruise on Tuesday--in effect a "post script" to an already memorable cruise.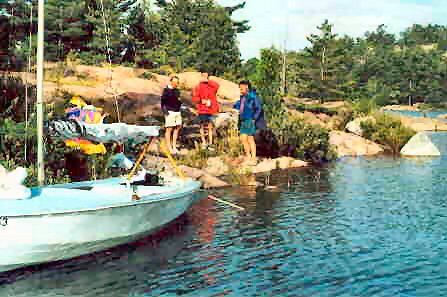 Under a bright blue sky with puffy clouds, we were pushed along from behind by a friendly north wind as we crossed Frazer Bay, with the Burtons in the lead. Then it was through the "Hole in the Wall", the narrow gap between Badgeley Point and Creek Island, a turn northeast in the direction of Killarney and a beat up Landsdowne Channel, past the big stone quarry on Badgeley Island. In the "vicinity of" Portage Cove (Tim and I still disagree about our exact location!), we went ashore at a beautiful sandy beach for lunch and our last farewells. It was a pretty sad parting. We would miss very much the friendly smiles and wonderful hospitality of the Burtons, and life would not be the same without Glenn's ever jovial manner and constant stream of one-liners.
With the others headed for the west entrance to the Killarney Channel, Tim and David and Alan and myself circled south of George Island and then east into Georgian Bay. That night we camped on pretty Thomas Bay, just west of the entrance to Collins Inlet. As we stood on shore in the quiet of the evening, we were surprised to hear faint sounds of guitar music and youthful voices singing camp songs, come drifting across the bay. The next day we learned that a group of 30 church youth, traveling in canoes, were camped nearby. It was reassuring to know that there are still people willing to spend the effort to take youth on a trip (possibly much like the one we had just made) to experience the wonders of this marvelous region. It was a nice way to finish our cruise as we headed back to Killarney that Tuesday morning. "Huh? What is that David?" Oh, yes! And we all enjoyed another one of those delectable Killarney fish & chip dinners before heading home.
The End