Have You Explored Lake Michigan's Grand Traverse Bay Yet?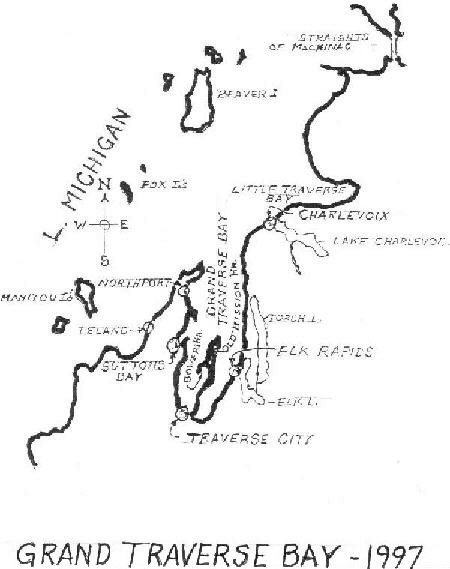 Another tale of dinghy sailing adventure by Dick Harrington
(Part One of Two Parts)
Let's assume for the sake of discussion that you've been toying with the idea of taking a short cruise with your sailing dinghy, possibly this summer. If it is anything like the seaworthy, 16ft. Wayfarer, this can be great fun. But you don't necessarily want to do something as primitive, or remote, as camping on the North Channel such as a group of us Wayfarers did last August. (See MAIB Vol. 16 - No. 1)
The truth is, the amenities that often go with dinghy cruising are sparse. The little boom tent gets even smaller after it has been raining for a while! Some people prefer land tenting, but this is not always an option. The pitch, "You will experience the great outdoors", means that there will be few, if any, showers or rest rooms on this trip! Bathing is done by going over the side of the boat. "There will be some physical effort involved", is short for "You are not only expected to sail the boat, but you have to cook and wash the dishes too!"
Not all dinghy sailors, especially the more gentle half of the sexes, want to rough it. But they might be willing to give a short cruise a try if there were just a few small luxuries included, like an occasional shower room stop, breakfast and a dinner or two at a nice restaurant and maybe a little shore side sight seeing thrown in along the way. This then, is where a short cruise on the more civilized, but beautiful, Grand Traverse Bay might do just fine!
I invite you to stay with me, go back to July 1997, and let me take you along on a marvelous five-day cruise of Michigan's Grand Traverse Bay. See if you don't agree with me that this cruise offered a little bit of everything needed to make it a grand experience.
"Almost by Chance"
This was not a well planned cruise, which is counter to what I normally preach. The Wayfarer North American Regatta was July 12th & 13th at Harbor Beach, Michigan. I was going, even though Margie (my wife and usually reliable crew) had begged off this time. She had been very dedicated through the season up to then, so I was understanding about it. Because of this, however, I was to pick up as crew, a very nice teenage lad, at Harbor Beach.
At first that was all there was to it, but the longer I thought about the 5 to 6 hour drive by myself, the more I felt I needed to get something more for my troubles. I knew I didn't stand any chance of really doing well at the races--not to fault my as yet unfamiliar crew member as much as my own inferior racing skills compared to the "hot shots". Harbor Beach is located on the outside of the Michigan "thumb", which juts out into Lake Huron. Why not just stay a couple extra days and cruise around the "thumb" area of Lake Huron since I was already there?
Some day I may still do that, but as people who are familiar with this section of coast know, it is completely exposed, has little protection and few harbors. I decided I didn't like that. Almost by chance, I noticed on the west coast of Michigan, the Lake Michigan side, a very large, interesting looking bay depicted on the Michigan road map.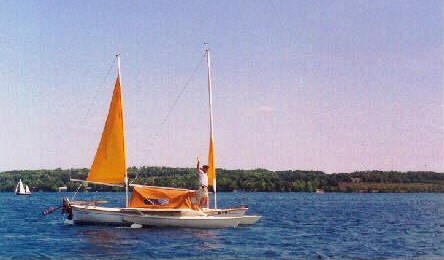 I had never been to Grand Traverse Bay before and knew nothing about it, except for a few comments from sailing friends in the past that seemed to indicate it would be a good place to cruise. I was short on time and my only source of information was the road map. However, there was little need to worry. After arriving at Harbor Beach the Michigan sailors were glad to provide me with much enlightening and valuable advice. Especially helpful were Jerry Best and Earl Schnur, both of whom had sailed and vacationed in the area many times. It sounded really great! They wished they could join me. I was sold, charged up and ready to go. I could hardly wait until the races were over. (Of course, placing close to last in the races may have had something to do with that as well.)
Suttons Bay and a Boat Named "Ben Main Jr."
The clock radio on my Blazer's dash was reading 10 PM and the brightness that lingered in the sky from a pleasant summer sunset had finally faded some miles back. My thoughts went once more to the sad fact that here I was, destined to be launching in the dark from some strange place, not having the faintest idea where I was going to spend the night. Finally, there was the sign welcoming me to Suttons Bay. It is just a small, quiet, seaside resort village and the sidewalks had already been rolled up for the day. But in the soft glow from the few street lights I could see several picturesque store fronts and interesting looking curio shops. I was happy and very relieved. Suttons Bay was indeed as pretty and quaint as Jerry Best had said it would be. Thank goodness! The glitz and commercialism of Traverse City, which had not impressed me at all, was not evident here.
There aren't any signs to the boat launch, but a nice gas station attendant gave me directions. It is close by at the town marina, but well hidden behind the main street store fronts. The parking lot was well lit and there were still several couples and singles out and about enjoying the evening. The people were friendly and before even having a chance to assess my situation I was engaged in conversation, mostly trying to answer landlubber questions about the Wayfarer, as well as, "where was I going sailing at that time of night?" Things were definitely looking up, but I still had a lot of questions of my own to answer and a lot of boat to get ready.
One of my visitors was a "salty", older gentleman (obviously retired), whose name was Richard Shepherd. He had been puttering around the marina with a fellow "who really doesn't know much about boats", trying to debug a short in his running lights. I thought the other fellow was indeed kind of odd, but matched up well with the rather strange looking, two-masted, 20 ft. sailboat he was tinkering with in the dark. (You will find a lot of "character type" boats, as well as the characters to go with them, around this area.)
I guess Dick Shepherd decided that I was a more interesting subject, sitting in the parking lot late at night with my cruising dinghy hooked to the back of the car. Anyway, as I proceeded to rig and load the Wayfarer, I rewarded him with one of my "Pete's Wicked" dark brews, which invariably improves any conversation. Then listening to Shepherd, I began to learn some things about where I was about to go sailing the next few days and before long each of us was trying to outdo the other with our torrid sea stories. My new acquaintance decided I must be OK, took me under his wing, and we became good friends.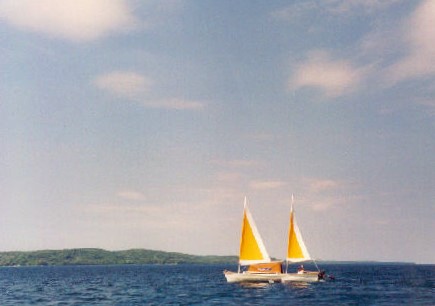 For half the year Shepherd's home is Cincinnati, Ohio. The other six months are spent living on his 20 ft., gaff rigged, Bruce Bingham designed FLICKA, moored at one of the jetties at Suttons Bay Marina. Dick also owns a Seapearl (modified to a trimaran) which is his "sailing around in" boat. He is living the "good life", and the fact that the "Mrs." stays home doesn't seem to matter. The Flicka is named "Ben Main Jr." after Shepherds old sailing buddy of many years who has since passed away.
Thus it was, instead of having to sleep that night in the boat on the trailer in the parking lot (which I have done before, but in this case it would have been in violation of a city ordinance and possibly costly), at the invitation of Dick Shepherd Blue Mist was birthed at a vacant spot on the marina jetty opposite Ben Main, Jr. What terrific luck! What great people you meet sailing and cruising!
It had been a long, late night and I was very tired when I finally snuggled into my comfortable sleeping bag. Sometime in the early hours of the morning thundershowers arrived and it rained hard, but I slept soundly. My little boat was safe and secure.
To Bowers Harbor Under Reefed Main and Storm Jib
It was 8:00 AM, Monday, July 15th. I unzipped the tent flap and there was Dick Shepherd. "Here's the key to the shower--when you're ready let's go get some breakfast." The sky was still somewhat threatening and I wasn't in a hurry to depart. We ate Belgian Waffles at Shepherd's favorite place over in Leland, a picture postcard little village on the outside shore facing Lake Michigan. This also gave Dick the chance to show me some of the area and see its attractiveness. Then after stopping at the grocery store, the pharmacy and the ship's store to get the necessary charts, I was ready.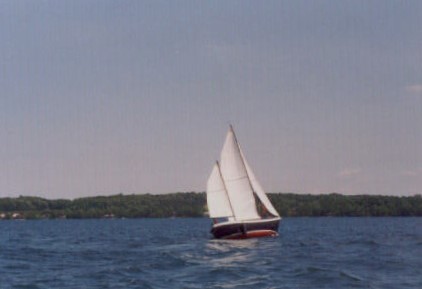 Some sun was popping in and out of the clouds and a strong, gusty breeze was blowing. Even in protected Suttons Bay small whitecaps were evident. The weather radio was forecasting 15 to 20 knots out of the south, with thunderstorms arriving by 3:00 PM. Dick Shepherd had suggested Bowers Harbor for my first stop, about 12 nautical miles away located on the near side of the central peninsula, which divides Grand Traverse Bay into two arms, West and East. This was just a nice sail from Suttons Bay, which is on the west shore of the West Arm. But it meant sailing across the West Arm, which is a wide open stretch of water with a long fetch from the south (all the way from Traverse City at the very bottom of the Bay).
It was already past noontime and I wasn't sure whether to chance it, but I couldn't continue to stay at the marina either. Meanwhile, Dick Shepherd was getting ready to launch the Seapearl. That settled it! I would at least show him what kind of sailors the Wayfarers are. So with reefed main and storm jib, I fought Blue Mist off the little jetty (only one or two small scratches!) and took off planing down the narrow marina channel.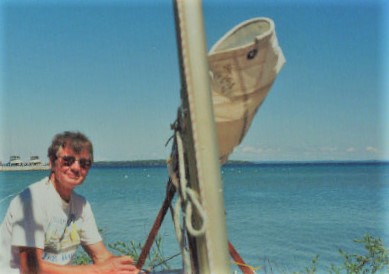 Dick Shepherd had the trimaran modified Seapearl reefed! The "odd fellow" from the night before with the character boat was also out. I was a little surprised at just how well the Wayfarer was handling the gusts--I was actually enjoying the sail. However, my two friends seemed to be content to just tack back and forth across the bay, going nowhere. I joined them for a couple turns. Taking out my camera, I decided to make some close passes at the two for pictures. On opposite tacks, the "odd fellow" suddenly began to fall off the wind, with a bead dead on my bow. I yelled at him, "head up!" He yelled back, "I don't know how to sail this thing, get out of my way!" After that fiasco I checked my watch. It was 3:00 PM and there were still no big black clouds anywhere in sight. I decided what the hell, let's go for it, waved good bye and headed for the big open bay.
I was learning something that would be further reinforced as the week progressed. Unlike the lower Great Lakes, where July winds are frequently weak, this far north (at least on Lake Michigan) they are plenty forceful. Rounding Stony Point I hardened up to close hauled and was almost able to make the southerly heading I needed to hit the gap between Marion Island and Tucker Point, one of the two channels leading to Bowers Harbor. The swells were on the order of 3 to 4 feet and the easy downwind ride I had enjoyed up to this point suddenly became hard work and very wet. But this is a deep water bay (the depth beneath Blue Mist's keel was nearly 400 feet and there is one area in the East Arm where it is 600 feet deep!) so the swells were of the longer ocean variety, as opposed to the short, steep dangerous waves we can sometimes experience on shallower Lake Erie.
The sail from Suttons Bay to Bowers Harbor took only 3 hours, which means the Wayfarer was doing better than 4 knots (disregarding drift, tacking, etc.) in spite of the fact that a good deal of the time was spent punching into waves. I was tired and had enough by the time I reached the protection of Bowers Harbor.
Bowers Harbor is a quiet, scenic bay with lots of protection that has a few private residences scattered here and there along the tree lined shore. But there aren't any public facilities. A small, colorful and attractive sailing club is nestled in the far northeast corner of the bay. I anchored Blue Mist in close, in the opposite, northwest corner where it was only 8 to 10 feet deep. The water was very clear and I could see remnants of fresh water clam shells laying on the sandy bottom along with my 11 lb. Bruce anchor. Nearby were several sailing yachts on moorings.
Northport, "a Delightful Surprise"
Tuesday arrived bright and sunny with just a whisper of wind. I was now completely into my "cruising mind state"--living in a different world, light headed, barefoot and carefree. Yesterday and any of its concerns were forgotten. After breakfast and a refreshing swim I sailed over to the fascinating little sailing club, obtaining permission to use the rest room. Then with a breeze beginning to pick up I cast off for Northport. Passing Marion Island for the second time, I may have seen the "old fishing lodge", the haunted house that I would hear about later from the old guy at Elk Rapids. But I didn't yet know about any of that.
Except for one distant sail the whole seascape was mine. It seemed like nearly all of this part of the Bay was deserted. Sailing down the day before I had encountered only a couple boats and that morning there had been only two or three people moving about at the sailing club. This quiet, almost remote atmosphere, is another remarkably pleasant quality of this area.
Retracing part of my route from the previous day, I turned Blue Mist north for the 14 nautical mile jaunt to Northport, not far from the tip of the Leelanau Peninsula which forms the west side of the mouth of Grand Traverse Bay. The southwest wind was by then blowing a good 15 knots and the waves out on the West Arm were 2 to 3 feet. On a broad reach and holding onto full sail Blue Mist planed at 6 knots. (I timed the elapsed time between buoys over a distance of several miles.) Needless to say, Northport was reached in record time.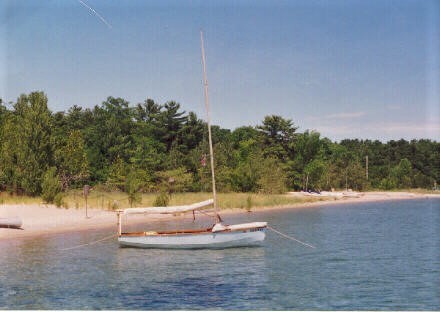 Unexpectedly, however, as I came under the lee of the Leelanau Peninsula the winds became extremely gusty and difficult, forcing me to reef again for the second time in two days. This was quite the opposite of what I had anticipated and was very baffling. At the time I suspected that this unusual condition might have something to do with the land affecting the southwest wind coming off Lake Michigan causing turbulence. Since then I recall reading about a down-burst phenomenon that can be created close to shore by land formations similar to this one. Anyway, the effect is dramatic and I was relieved to finally land on the beach at Northport. (According to the article the solution to avoiding this down-burst turbulence is to sail further off shore.)
Northport was a delightful surprise. The stony shores were gone and in their place were long golden sandy beaches. This small village is just a little seaside resort town, but with a distinctly nautical air to it and the picturesque quaintness of a New England village with its brightly painted waterfront shops and restaurants. The town center piece is a beautiful waterside park, boasting a wide sandy beach and handsome yacht basin, which hosts many visiting yachts in the summertime. At first, temporarily beaching the Wayfarer on the sand, I made a quick tour of the waterfront and ate some lunch. But there was too much to see so I secured her for a longer stay, tethered to her anchor a short way from the water's edge, and with camera in hand went exploring in earnest.
I needed to get Margie a little surprise, her small reward for letting me run off having tons of fun cruising two or three times a year while she holds down a full time job. I decided right away that this was the place, except that by the time I got serious about shopping the stores were closing up. But that was OK because I would get right to the job the first thing in the morning. (Margie loves the Northport shirt I bought for her and it has become one of her favorites--whew, got lucky again!)
The large bay outside the man-made harbor/marina is pretty exposed, which would make it an uncomfortable anchorage under some circumstances. However, with the relative calm of a pleasant July day and with the breeze being off shore, I was happy anchored out front that night along with half a dozen local boats on moorings.
(to be continued)
Coming in Part Two: Old Mission Harbor, "a Place with a Lot of History"; Elk Rapids, "an Enjoyable and Pleasant Port-O-Call"; and "The Right Kind of Ending".
"Have You Explored Lake Michigan's Grand Traverse Bay Yet?"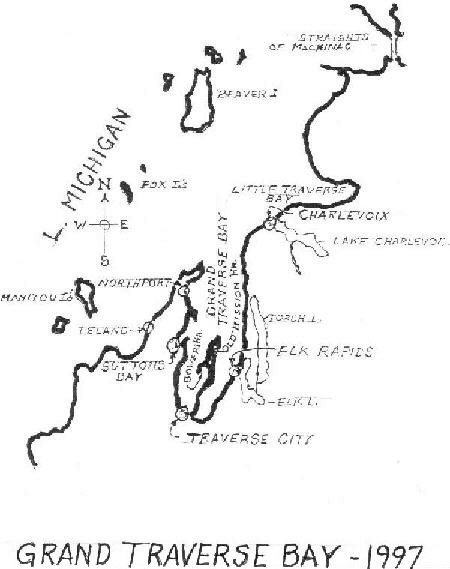 another tale of dinghy sailing adventure, by Dick Harrington
(Part Two )
In Part One of this account of my five day adventure on Grand Traverse Bay in July 1997 I described my visits to Suttons Bay, Bowers Harbor and Northport. The tale now resumes...
Old Mission Harbor, "a Place with a Lot of History"
Having met and conversed with some interesting people at Northport I was sorry to have to leave. (I would also miss those huge, delicious cinnamon rolls I had enjoyed with my morning and afternoon coffee, a specialty at the local bakery.) Still, there was a question in my mind that needed to be resolved--do I next explore the Eastern Arm of the Bay or attempt the longer, more open sail across the mouth of Grand Traverse Bay to Charlevoix? The name kind of fascinated me, but I didn't know anything at all about Charlevoix. This minor problem was soon settled.
By the time I had completed shopping and was ready to depart it was already approaching 11:00 AM. The weather radio was again forecasting thunderstorms in the afternoon and the gusty wind conditions I experienced the previous day were again evident. Up to now the almost daily thunderstorm predictions hadn't materialized or the storms had passed to the south. Nevertheless I saw no reason to take chances, so I set a course for Old Mission Harbor, a large, open bay on the east side of the central peninsula on the East Arm. This was a safer sail and only about 15 nautical miles from Northport. I wasn't sorry for this decision, but mostly for other reasons.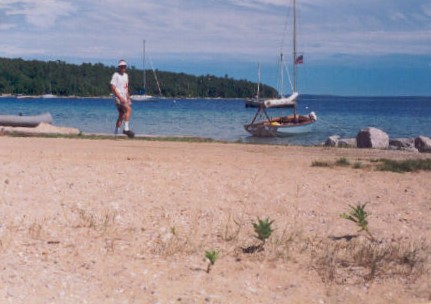 Learning my lesson from the day before I started out with just small jib and reefed main. After clearing Omens Point, I was able to comfortably move up to a "genny" and reefed main combination. Upon reaching Old Mission Point Light I had sailed 8 miles in an hour and 40 minutes, which gave me a speed (over ground) of 5 knots. (Folks, let me tell you, that is darn good for a 16 foot dinghy, reefed at that!) By then, however, I was nervously eyeing a dark bank of clouds to the south, as well as one or two overhead that looked like they could stir up some trouble. My attention turned to getting Blue Mist to the other side of Old Mission Point as quickly as possible.
The wind was freshening, but in short order I had made the protection of Old Mission Point where conditions were calmer and it was only a couple more miles to Old Mission Harbor. Meanwhile, though, across the water on the east shore, I was seeing a flash or two of lighting and could tell that it was raining in the vicinity of Elk Rapids. When it got real gloomy all around me, and the wind died completely, I was certain I was going to get hit at any moment. Hurriedly I took in the genny, then fussed because the boat wasn't making any headway. At one point I even got out the oars.
Happily, after all that anticipation of the worst happening, the only thing that transpired was a brief scattering of rain drops--no blast of wind nor rain, no devastating lighting strikes. Within 20 minutes the sun was back out. In a gentle breeze I sailed up to the smooth, sandy, deserted public beach at Old Mission Harbor. Storm clouds! What storm clouds?
Old Mission Harbor is every bit as intriguing and interesting as Northport, but in a different way. To begin with this is a rather remote location, being quite a ways out on the narrow peninsula that separates the two Arms of Grand Traverse Bay. It is also very quiet and more rural than the other places I had visited. The beautiful sandy beach, for example, was totally absent of human activity even though it was a warm, sunny July day. I just didn't get the feeling that jet skis had made much of a inroad here yet. On top of this and most importantly, it is a place with a lot of history and there seems to be a strong sense of this history among the local inhabitants, or at least the ones I chanced to meet. I was impressed and pleased that I had chosen to stop there.
Normally I'm one who doesn't spend a lot of time reading historical markers and the like. But I was attracted by two very nicely done placards placed at the head of the public beach, that included a lot of historical information and some interesting old blown-up photographs and artist sketches. One placard tells the story of Rev. Peter Dougherty and how, in 1839, he arrived at this bay, the sight of an Ottawa Indian Village of bark wigwams, in a canoe with a group of Indians to establish the first mission church and school. A replication of the "Old Mission Church" along with the original "Manse" (mission house) can be found just a couple miles up the road, on the other side of the bay. (I would shortly take a walk along the quiet country road and to go visit it.)
The other placard shows old photos and describes how in the 1880's-90's, following the departure of the Indians, the rapid development of a prosperous farming community and resort industry took place. Old Mission Harbor became a busy port bustling with shipping, with passenger and farm products departing daily on a variety of sailing vessels and steamships. With deep water very close to shore I could easily imagine that this was a good harbor for ships, but any sign of the big piers and other structures shown in the old photographs was now completely nonexistent. Without the benefit of the placards, a wayward visitor such as myself would never guess the existence of this kind of past. The serene, sparkling, sandy beach belied any of this potent early history. (I also found that the close in deep water and sharp drop-off makes anchoring here quite tricky.)
My walk uncovered no stores except for a camp store at a small campground with a "for sale" sign out front, no restaurants and few inhabitants. But there was one discovery which made all the difference--the local church was having their weekly Wednesday night community dinner, which in this case was an outdoor BBQ. With still a couple hours before dinner I had time to go back to Blue Mist, get cleaned up a little (shave off a 3-day growth of beard) and put on a clean T-shirt. The BBQ was excellent and perfect for my limited budget. Better yet, I had lots of fun and I got to meet a wonderfully interesting older gentleman who filled my head with many colorful stories from the old days when Old Mission Harbor was still a bustling place.
Elk Rapids, "an Enjoyable and Pleasant Port-O-Call"
I had been thinking from the beginning that Friday would be the day to head back home. As much as I enjoy cruising singularly and find the exercise of consorting with my inner self for a few days good for the soul, after a week or so of being alone I begin to miss Margie. So on Thursday morning, even if the weather hadn't been threatening rain, it is unlikely that I would have attempted the now long sail to Charlevoix. Besides, that would have meant an equally long sail again on Friday back to Suttons Bay, a violation of the "keep the last day's sail short" rule.
For the first time I was encountering light and variable winds along with a gloomy morning sky. Fortunately, directly across the way and only a short sail was Elk Rapids. A long sail would not have been much fun, but the short sail across the bay was no problem. Not surprisingly, Elk Rapids turned out to be just as an enjoyable and pleasant a port-o-call as any of my other stops.
After registering with the harbormaster for the modest fee of around $10 to $12, he found a spot along one of the wooden piers to tie up the Wayfarer that was fine for the dinghy, but too small for any normal size cruising boat. I had decided to just spend the day and night at Elk Rapids doing some sight seeing, then depart early Friday morning for Suttons Bay. Even so, it was still a good 16 nautical miles from Elk Rapids to Suttons Bay and I was counting upon Friday bringing good winds.
The Elk Rapids harbor/marina is absolutely beautiful and one of the nicest I've seen, which makes up for the fact that there really isn't any way one can anchor or beach even a dinghy on the outside. There is a pleasant, but small, sandy swimming beach just south of the harbor (and island), but unfortunately this is not a good place to try beaching a boat. On the other hand it seems that no money was spared in making this modern marina and adjoining park architecturally aesthetic, attractive and comfortable.
The marina was a busy place with a lot of visiting and local yachtsmen and fishermen going here and there. Not unlike Northport, where the town centerpiece is the marina, the same is true for Elk Rapids and its marina, which is packed with handsome yachts and fishing charter boats, and is surrounded by an equally beautiful and picturesque park. The park, with its tree lined walks and stone pedestrian bridges, envelopes the two small, rushing cataracts (the "rapids" of Elk Rapids) that wind their way down from the slightly higher Elk Lake, which is only a stone's throw away on the other side of town. Adjoining the park is the "island", an extension of the park and the site of the town library and museum. The mostly manmade island (which is now a hill but was originally a swamp) is home to many exotic, old, imported trees, as well as the old mansion and gardens of one of the early town fathers, a 19th century lumber tycoon.
Elk Rapids of course is also a popular resort town and is very attractive with its own quaint, brightly painted stores and restaurants up and down the main street. However, since it is also situated on the busy Route 31 coastal road, it is not quite as laid back and quiet as Northport. But still, it was a great place to visit and explore.
"The Right Kind of Ending"
Friday did bring clearing weather and the refreshing breeze I had hoped for. The sail back was fast, delightful and made just the right kind of ending. I had enjoyed my stay at Elk Rapids and once more I got to swap tales with some of my fellow yachtsmen. A few may have harbored slight feelings of envy at my fun-loving, uncomplicated cruising lifestyle, others, no doubt, would never think of it, but nevertheless admired my pretty Wayfarer. It was here also that I encountered the interesting old gentleman from town, a fisherman who told me the story about his personal encounter with the "ghost" of the old fishing lodge on Marion Island. (Now how can I be so mean as to leave you without telling that story--no I can't!)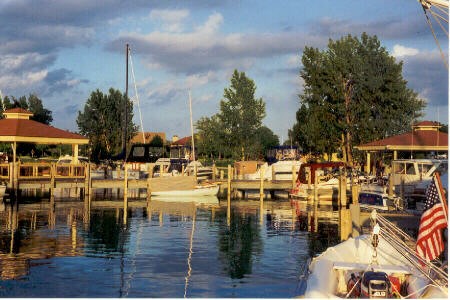 It seems that the ghost is the deceased wife of one of the owners of the lodge from many years ago. As the story goes, the wife was forced to live in the attic, or she chose to out of shame, while the owner took up a notorious affair with one of the young, pretty chamber maids in his employment. How the wife died, or what befell the owner and the chamber maid, I'm not sure. But according to my story teller, one day, he, his son and his partner decided to motor out to the island in their boat to look the old place over, with the idea of acquiring it. While there, it seems they encountered all kinds of weird happenings, disturbing sounds, unexplained slamming of doors and the like. All of which was enough to prompt them to depart in a big hurry and cancel any further ideas of buying the place. My acquaintance truly believed the old lodge to be haunted--in all other aspects he seemed quite normal to me! (Anyone care to check it out?)
Grand Traverse Bay was 100 years ago, and still is today, a place of beauty as well as historic significance. How many more "old gentlemen" are there, walking the shores and town harbors with wonderful, interesting tales to tell? It had been a terrific week for me and now I had another great story to tell.
That afternoon, as I drove back along Route 22 towards Traverse City, with Blue Mist once more hooked onto the back of my Blazer, I looked one last time at the sparkling blue waters, lightly flecked with froth topped waves. I could almost imagine the waves to be gaily laughing and tossing their heads, bidding me a cheerful farewell until next time.
The End
PHOTO CAPTIONS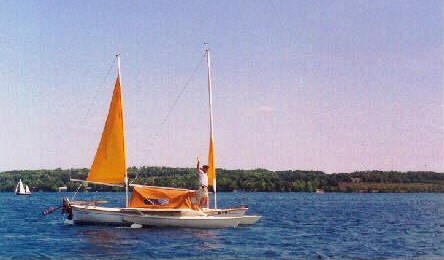 Dick Shepherd had the trimaran modified Seapearl reefed!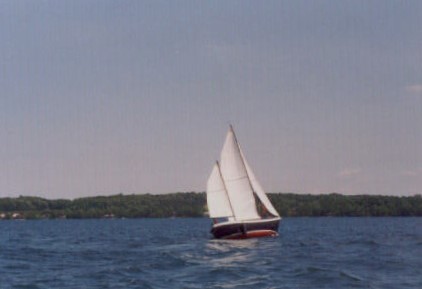 The "odd fellow" from the night before with the character boat was also out.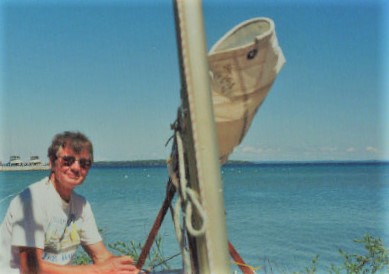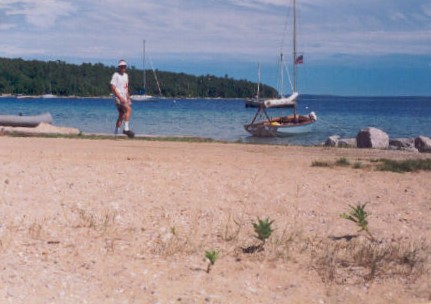 Northport was a delightful surprise. Temporarily beaching the Wayfarer on the sand,
I made a quick tour of the waterfront and ate some lunch.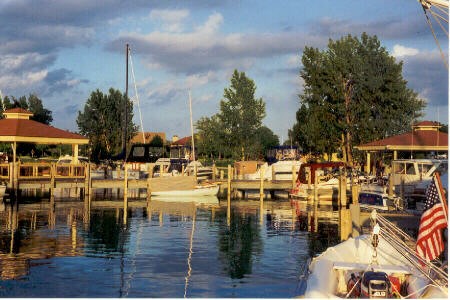 The Elk Rapids harbor/marina is absolutely beautiful and one of the nicest I've seen. In the 1880's-90's Old Mission Harbor became a busy port bustling with shipping, with passenger and farm products departing daily on a variety of sailing vessels and steamships. The serene, sparkling, sandy beach belied any of this potent early history.