July 14th Saturday.
After driving since 0500 when we left our motel, Alan and I arrive at Pengallie Bay about 0830, to find an enthusiastic welcome and a bacon-and-egg breakfast all ready. The lake level is 2ft. above usual this year, and the dock at the head of the tree-lined bay is partly submerged. Fortunately, Tom waited till the end of the day to mention the water-snake he had seen swimming away while we ate breakfast.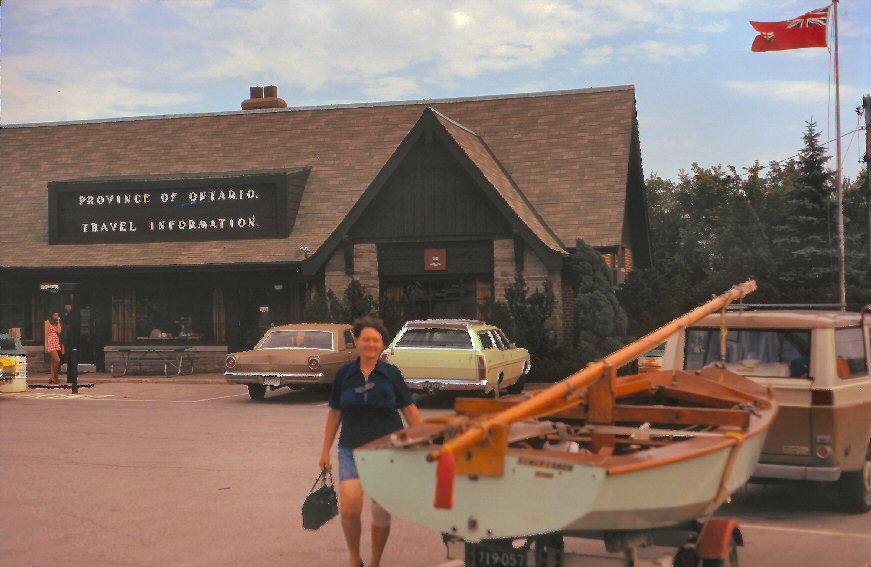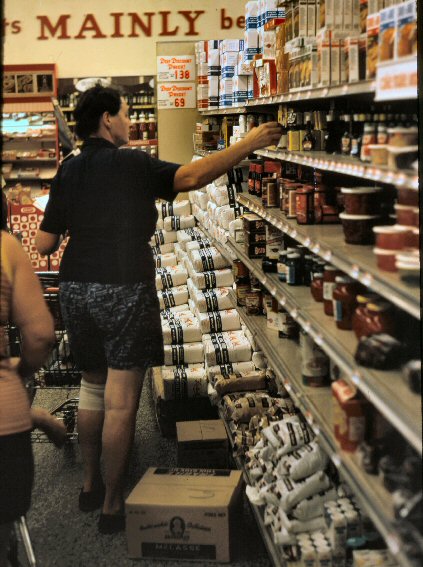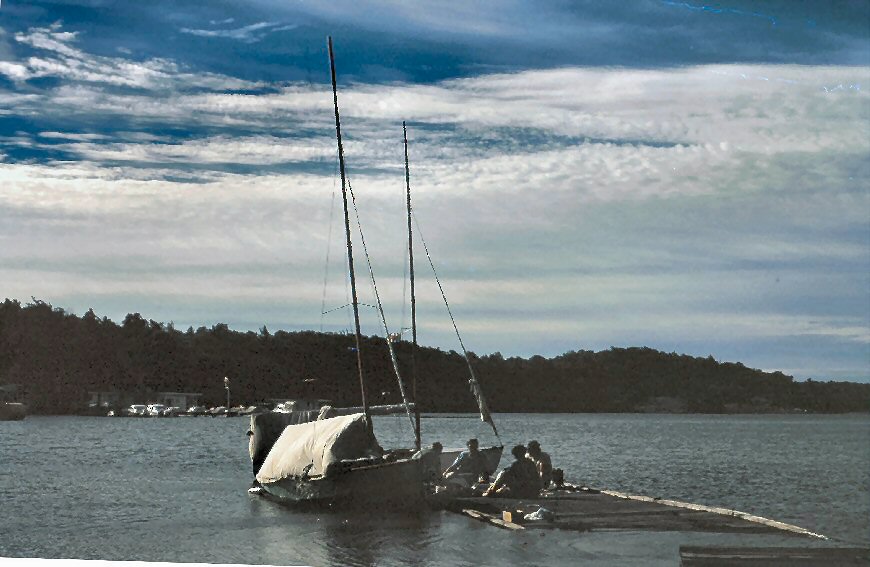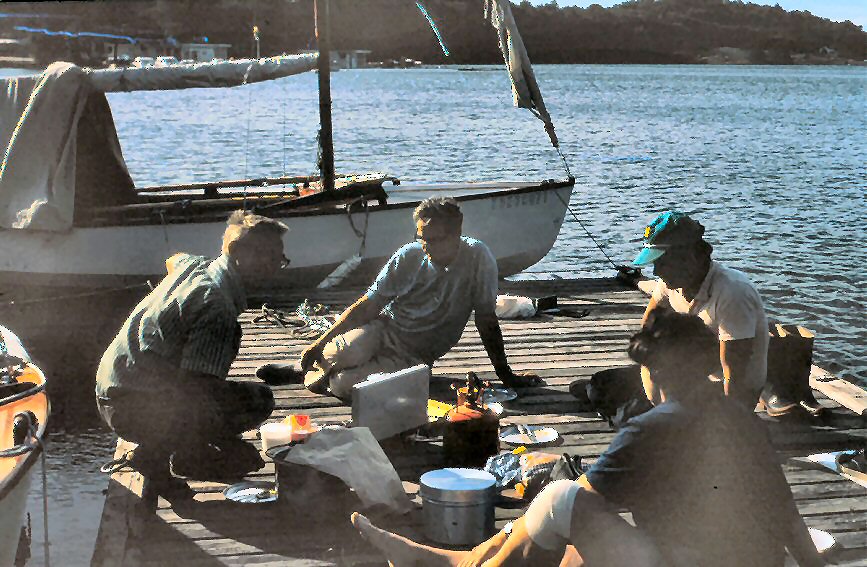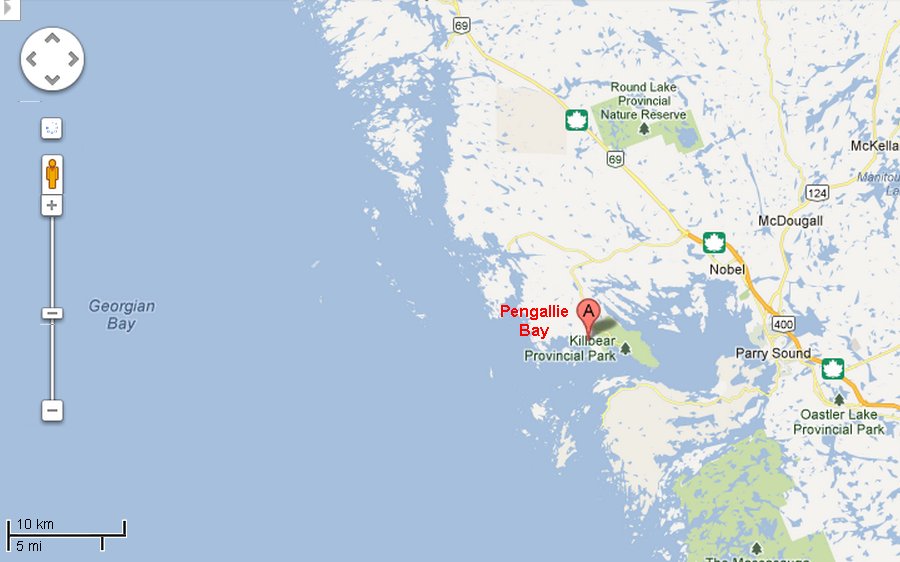 Everyone else - that is to say, W460 with Don and Connie Davis, and W1129 with Tom Dawson and Pete Hanson - had been there the previous night, so we loaded Kingfisher (W866) with all our gear. The others were rather alarmed at the amount of stuff we had. But who had bread (home-made, at that) for the whole party five days later, when we still hadn't met a store? Who had Zipper-ease when the Commodore's tent zipper acted up? Who had basic tools, including a drill, when occasion arose? But that's another story.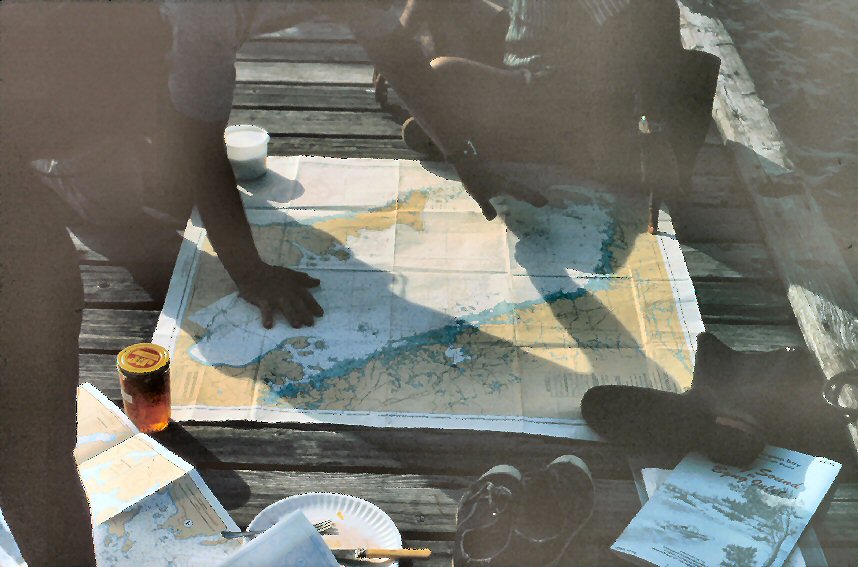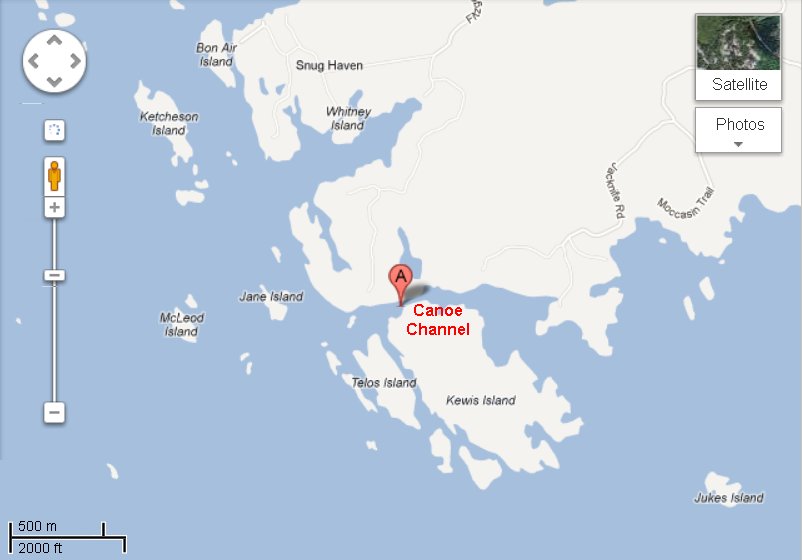 By 1100 Don and Pete had stocked up the cellars, and we were off, under reefed main only, with the jib furled around the forestay; we left Killbear Marina in a good, stiff breeze - Force 5, SW - and bright sunshine. An hour later we were going through Canoe Channel, and the Log reads "Wow! Narrow channel, 4-5 boat lengths wide. 10-sec. tacks in teeth of wind." A caution note on the chart drily remarks that "Canoe Channel is considered unsuitable for vessels over 40ft. in length." The land up in this part of Georgian Bay is rock, with trees coming right down to the water's edge. Parts of the coast are sheer rock walls.


The sunshine and blue sky made this a very pleasant experience until 1350, when, with a sharp report, our gooseneck broke and the reefed main came tumbling down. My first thought was that the boom had somehow come off the gooseneck, and I remember being puzzled, rather than alarmed, at finding no gooseneck to put the boom back onto. It was blowing fairly hard, rocks and rock islands quite close, the main lowered and the jib still furled. The jib sheets were temporarily inaccessible under the main, so I unfurled and hand-held the jib while we headed for a little protected harbor by a private cottage. The owner, a charming elderly gentleman, came out to see what was going on.

It turned out that he was a retired lawyer, and when we asked whether he minded our tying up to his dock for repairs, he said he didn't mind, but that in any case he was bound by law to let us stay up to 24 hours, as we were distressed mariners! We had a hurried and not very successful search for the gooseneck, which had gone with such a bang that we felt sure it was on the bottom. Imagine everyone's astonishment when, part way through the repair job, Pete pointed in silence to the foredeck and there, right beside the lifting handle, lay the broken gooseneck! It was useless, of course, except that it gave us the measurements to try and get another. But it had survived all the tossing and all the swishing of the jib.

A jury rig was completed in short order. Alan unscrewed the gooseneck track from the mast and wrapped the mast at that point in heavy line. He padded the end of the boom with a sturdy cotton dishcloth secured with duct tape (which, by the way, survived all the wetting it got during the following week and was still as firm as ever.) Then he drilled two holes through the boom just behind the padding and tied the boom to the mast with strong line though the holes. This arrangement worked beautifully, and we went half-way round Georgian Bay like this. The one disadvantage came in hoisting or lowering sail, or in reefing. We had half-a-dozen reef knots to undo each time. Our bag of tools had been justified in the first few hours! Alan and Don recalled an exchange just before we left: Don: "Do you need this?" Alan: "Well, there are some types of repair which you just cannot do without a drill." The log shows the repair finished at 1430, and the flotilla under way again at 1440, so the whole incident took less than an hour.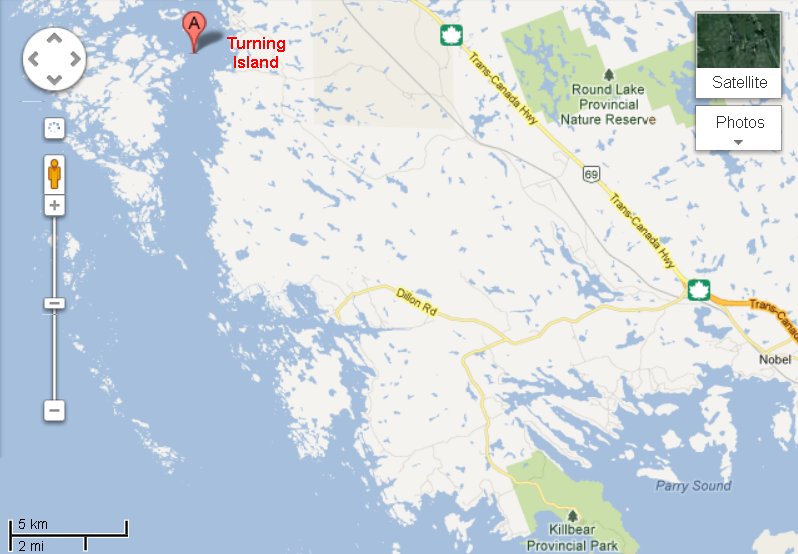 We did have to stop and adjust the jury rig once, at 1625, but otherwise things went smoothly, and the next entry shows Turning Island abeam at 1640. Shortly after that, Ken Hassard, who had invited the group to his cottage for the night appeared in a motorboat named
Smile!
And took a photograph. We were the only ones who did not know it was Ken, and we may not have obeyed this order. At 1745 we landed at the Hassards' cottage, and it was smiles from there on.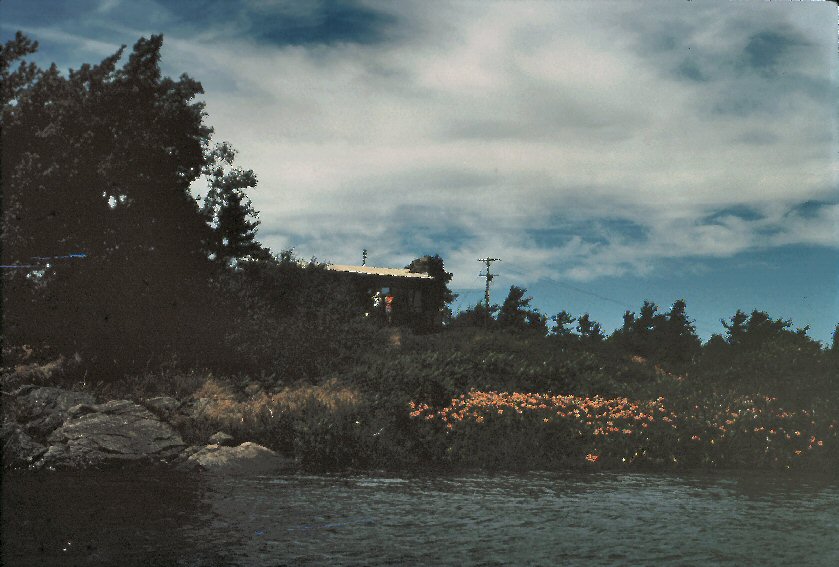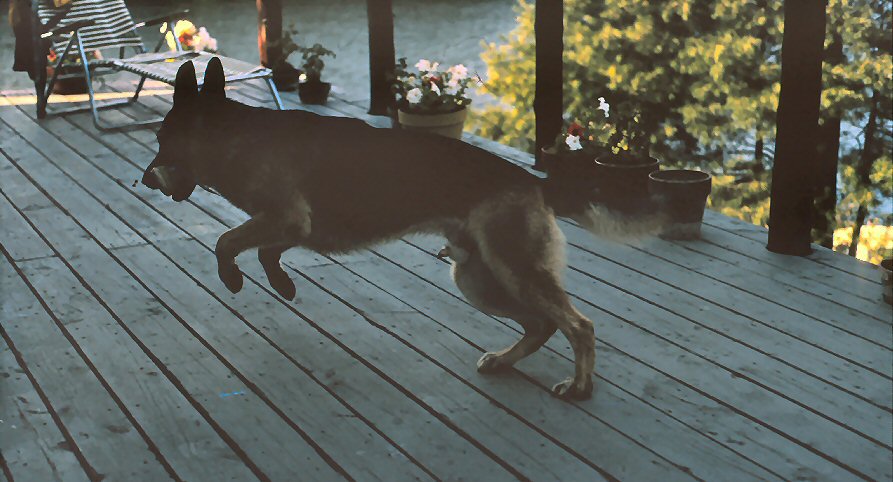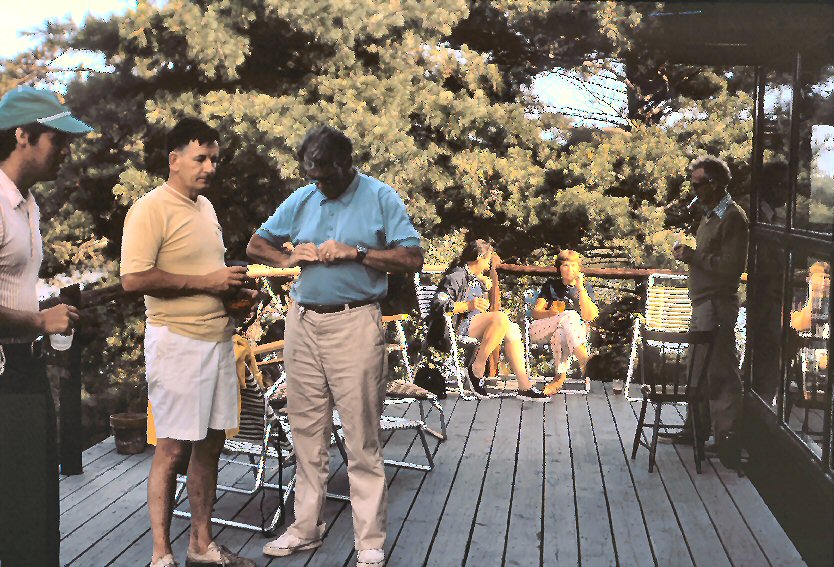 What an energetic and kind couple Ken and Dorothy are! All were made welcome, friend and stranger alike, in this lovely cottage they have built with their own hands, perched on the rocks of Tonches Island. In fact, strangers quickly became friends in the home of this gracious couple, and their four enterprising youngsters. (Judy and her brother were out on their paper route - by boat - when we arrived.)
Ken knew exactly who to ask about our gooseneck plight, and late that night, when the hardware store in Pointe au Baril was closed and its owner back home on the next island, Ken took Alan over to discuss it. Late as it was, he came back to look at the problem first-hand.
July 15th Sunday.
The next morning Ken found a welder in Pointe au Baril who tried for some time to weld the broken part. However, he did not have the equipment to weld stainless steel, and no-one had a gooseneck in stock, so we carried on under jury rig. From Pointe au Baril, Alan called Hugh Thomas in Huntsville to see whether another could be obtained. Hugh suggested that he call George Blanchard and get one shipped to General Delivery, Tobermory.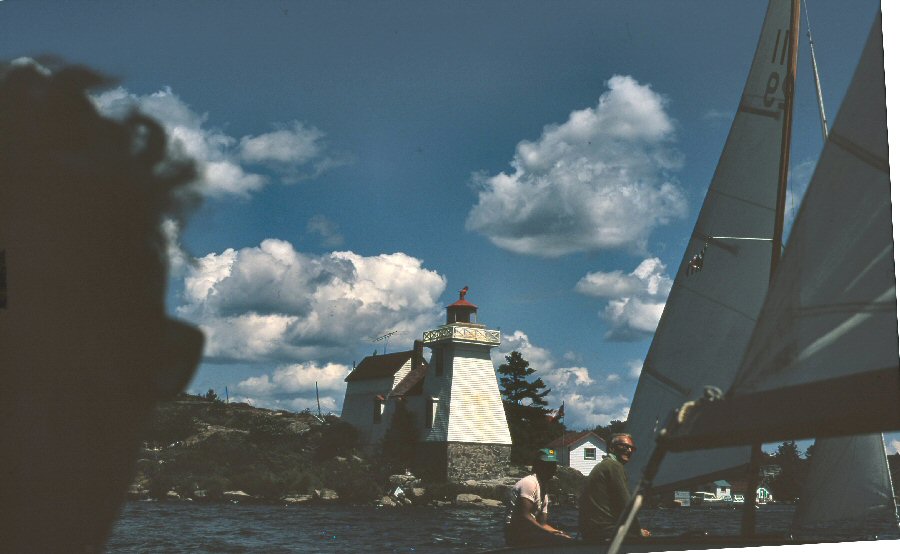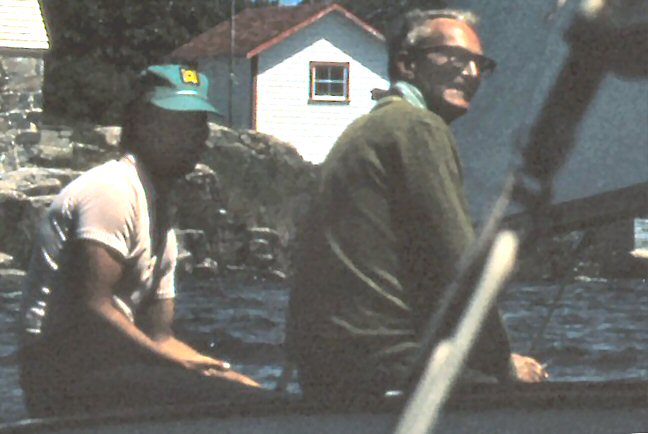 1345: Don dropped the Hassard youngsters off when Ken met us in
Hassard
at Pointe au Baril Light, and we departed the Light, feeling that we were now on our own. The next two hours took us through two brief "outside" passages, round such interesting-sounding spots as Nares Ledge and Hangdog Reef, but were mostly spent in inside passages between the islands, through Shoal Narrows and Hangdog Channel. The land is very broken-up here, with lots of tiny islands and narrow passages, though the marked Small Craft Channel never seems less than 200ft. wide.
1545: After leaving Hangdog Channel and entering Alexander Passage, we stopped for lunch. We spent only twenty-five minutes on this, though you may be sure that with all those Englishmen around, tea was brewed up. There was never much question about whether to brew up tea - it was usually a question of making it a two-bagger or three-bagger.

1610: Off again. We saw many interesting boats from (relatively) faraway places and the first of these was a catamaran we met just as we came out of Alexander Passage. She was from Camden, Maine, about 1,000 miles from Georgian Bay.

We had been aiming for a possible camp on Bourchier Island, and for the next 5 miles, on an outside passage, the log records:
Wild ride on long close reach. Wind 15, gusting to 20, West 3ft. waves, choppy and confused, putting much water in boat.
Don, who had delayed putting on foul weather gear, claimed that one wave came in over the bows and went out over the transom. When asked what he was doing, he replied, "Sitting there, getting wet."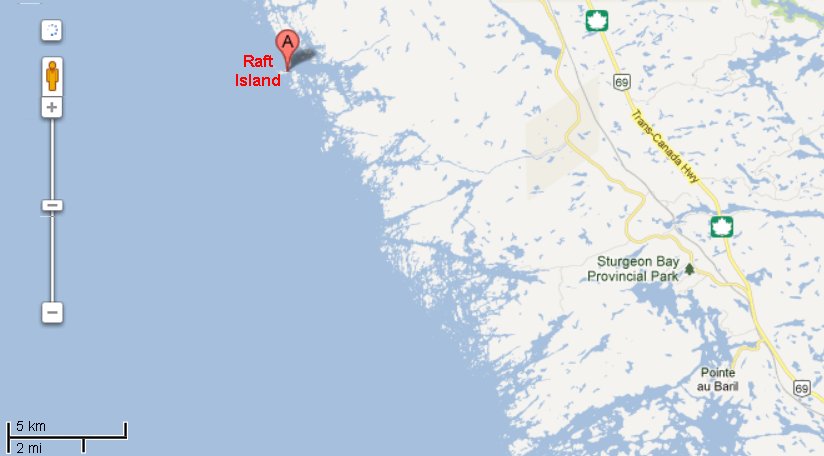 1900: Put in to the north side of Raft Island, adjacent to Bourchier, for camp. Nice little protected cove; swam, cooked supper - almost perfect tables of smooth rock. Here, as always, we slept on the boat. We were usually tied up to a tree, with a stern anchor out.
Perhaps this is as good a place as any to discuss equipment. Each boat had a boat tent; for those who have not seen one, the after end of the boom is supported on a boom crutch that stands on the after-deck. The boat tent is thrown over the boom and has a collar that wraps round the mast. It comes to a point over the bow, and some gear can be stored on the foredeck. The after end of the tent varies from tent to tent; ours has a complete mosquito-netting triangle that zips in and is interchangeable with a canvas triangle for bad weather. Others have a mosquito-netting window in a canvas triangle. The neatest fastening round the bottom of the tent is a set of studs just under the gunwales. Ours has (at present) a set of lines fastened in grommets, and the lines have to be led under the boat. One end of the line was made fast on, say, the port grommet, an empty bleach bottle was tied on the other end, and held in the spinnaker-pole snap. The line, with plastic bottle, was pushed just under the boat and the spinnaker-pole snap released, so that the plastic bottle popped up on the starboard side carrying the line with it. For some reason, Alan abandoned this system and nightly embarked on a perilous walk around the gunwales, carrying the lines. We shall install snap studs at the earliest possible moment.
We and Don carried land tents, but this was a waste of space, at least on this cruise, as we never used them. The land was rocky wherever we stopped, and possibly the known presence of rattlesnakes in this part of the country might have had something to do with it, if we had found a suitable site. (We never saw a rattler.)

Each boat carried a stove - no two were alike - and a set of nesting dixies. We were the only boat carrying a cooler chest. At first, we used this in the ordinary way with ice. After the first lot of ice melted, we found it more convenient to use the cooler as a food locker without ice. This was, all staples, dishtowels, detergent, knives and forks, matches (in Ziploc bags) - in fact, most of the paraphernalia needed for the evening - were in one container, and needed only the addition of stove, dixies and a can or two, to prepare supper. We either bought a small amount of perishables and kept them without cooling for a day or two, or else did without. The cooler was an effective chart table in the daytime. We carried a 3½ gallon jug of drinking water for those places where the Georgian Bay water was not drinkable. Two boats carried hurricane lanterns, and found them very useful, not only as light for reading or card games in the evening, but also to dry everything out when they were left in the boat with the tent up, over supper. Lashed with shock-cords, they seemed to be perfectly safe. Two boats carried portable radios with marine bands and, while the interpretation of Mafor is another story, we felt more secure with weather forecasts.

For sleeping, everyone had an air mattress and a sleeping bag. Alan and I have camped (on land) for about thirty years and have never used an air mattress on Mother Earth. However, wooden floorboards are not quite as resilient as earth and tend to get wet on a brisk day, so rubber air mattresses were welcome. They had to be pumped up each night, which was a bit of a chore. Pete had an effective foot-pump which fitted everyone's air mattress except ours - until he cut 2-inch lengths off the rubber hose of a bilge pump and installed them over our valves. His pump fitted the other end, and thus equipped with Hanson Air Mattress Adapters we spared our lungs with one foot. Anchors were very important at night, and it seemed that grapnels were more effective in rocks, than the Danforth type. We had two Danforth-type anchors - one 6-lb and a light one, as well as a tiny grapnel. Tom had a 20-lb grapnel, Don a 9-lb grapnel. Six feet of heavy chain was essential to prevent chafe on the rock bottoms. Boat compass was essential, and hand-bearing compass a big help - you have got to be able to navigate accurately in fog. We carried a running light and anchor light but only used them once each.

Other essentials are small:
some way of dealing with mosquitoes (if you use the aerosol spray type, make sure it won't damage your tent's waterproofing)
sunburn protection and cure - you are inexorably exposed on a boat
a basic sewing kit - mine was fairly elaborate, including the Zipper-ease and some Velcro with epoxy glue
tools, whose usefulness has already appeared
charts go without saying, though we did hear of a fellow navigating Georgian Bay on a 28-footer with an Esso map
a very soft pencil for the log - when I found mine in the recesses of some pocket, it could be read no matter how wet the page was when written on
and binoculars, camera, and so on, according to your own taste.

Food needs to be simple. Canned goods were kept in the bilge, after writing the contents on the end with a grease-pencil. Labels washed off and plugged the self-balers - next time it would make sense to tear them off at the start.

July 16th Sunday.
0630: Woke to another sunny day; swam, had breakfast and packed up. The log notes that first packing-up was rather slow. Commodore checked time by WWV, and we were off at 0930. Later experience showed that the wind didn't get up till 0930 or 1000 anyway, so there was no point in hurrying. In a gentle breeze from the West, we set off for the Bustard Islands.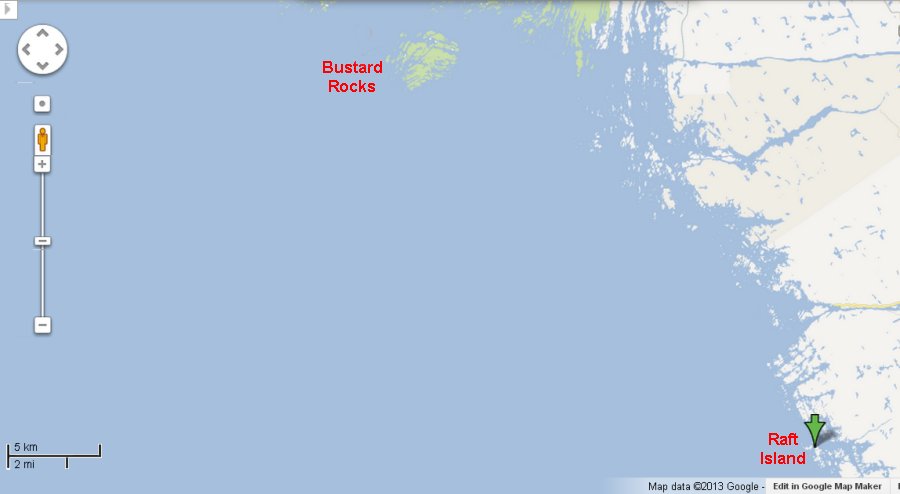 A couple of loons were seen swimming ahead. Years ago, we used to hold conversations with loons, whose call is fairly easy to imitate. Tried it with these which promptly dived. I must be out of practice.

1025: Passed Buoy 87, a little over 1 mile from Raft Island. Tom and Pete went south round Norgate Rock, retracing the previous night's course further than we did before turning West, but finally tacked, to the relief of us all. Later they claimed this was intentional - "to get a better breeze."

1035: Tom caught up.

1038: Passed Mark 91, 5/8 mile further, in fairly open water. Channel skirts a wide, shallow shoal on starboard (NE) side, with a few marked rocks on port side.


1047: Passed 110, having cut a corner to come onto a course just E of N, bringing us back to the islands.

1049: Passed 95 at entrance to Danny Island Channel.



1058:

Sandy

out of San Francisco, a good-looking 40-footer, passed down Danny Island Channel, under motor. One lone, bearded mariner aboard.

The next twenty minutes took us ENE and N through a narrow, well-marked channel and past the Gereaux Light, across the mouth of Byng Inlet,

1120: Passed 111, between the North and South Channels of Byng Inlet, marking McNab Rocks.

Half a mile further on, we joined the mouth of the North Channel for about 2 miles of open water sailing on a NW course.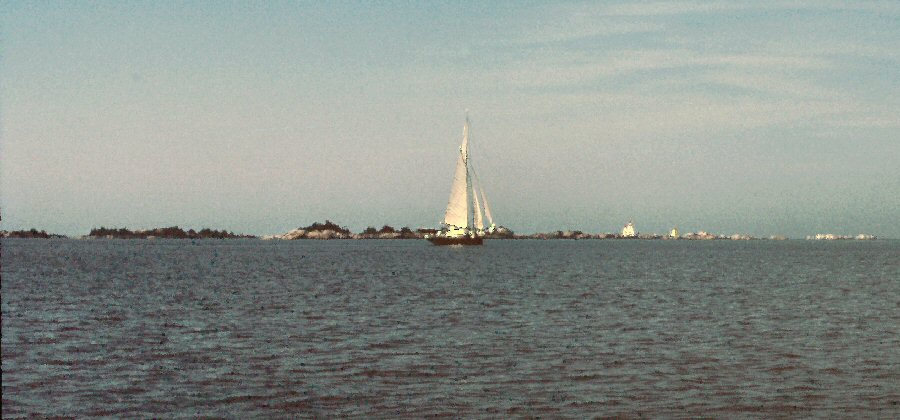 1200: Turned down into Cunningham's Channel; rather less than a mile between islands and shoals, where the narrowest part of the channel is about 150ft. wide.


1208: Rounded 11 out of Cunningham's Channel, for a 2-mile stretch of open water.

1230: Lunch on Golden Sword Island.

1330: Off again, once more among little islands.



1410: Out of Rodger's Gut. (Alternative channel would have been Free Drinks Passage. Whatever possessed Don and Pete to pass that one up?) Wind W, Force 3, and bright sunshine. Here, a big power boat from New York crossed right across Tom's bows. As the transom came into view, she was seen to be the African Queen, promptly renamed by Tom and Pete "African Queer".

For the next 3 ½ miles, the course averaged out about NNW and led us among rocks and shoals, with the islands about ¼ mile away on either side. Then a sharp turn to WNW took us about 6 miles past the ends of long, narrow inlets with fingers of land between, part of which are called "The Shirt Tails". For the last 3 miles the channel gradually diverges from them, and goes through fairly open water towards the Bustard Islands where we were planning to camp that night.

1455: Wind 10-12kts. WSW

1520: Changed to working jib. On Starboard tack. Noticed port shroud shackle pin undone, leaving shroud swinging free. Did it up.



1600: Saw two 6-man canoes headed SE.

1650: Arrived Tanvat Island (one of the Bustards), and camped on the NE shore.



Lots of fun in camp. Garbage was beginning to be a problem. We carried it in plastic garbage bags until we could find somewhere proper to dump it. We discussed whether it would be polluting to leave eggshells in a crevice in the rock, and decided not, as the seagulls do it all the time. Don felt the same applied to match sticks - after all, they were growing all around, and we were just putting them back!


..